Join The iBIBLE Revolution
iBIBLE will revolutionize how people all over the world can engage with God's Word. When completed iBIBLE will include the entire Biblical narrative from Genesis to the final Revelation — as one cohesive story — revealing God's plan to redeem and restore mankind. It will be FREE to translate into any of the world's 7,000+ living languages and be made freely available on any one of over 5 Billion smartphones around the world.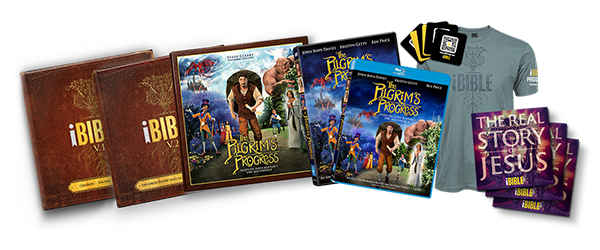 Join Now
Become part of history with a monthly donation of $35 a month or more and receive free rewards and an insider first look at the most significant Bible distribution project of our generation.
As a monthly donor, you will receive:
Two copies of The Pilgrim's Progress on DVD (with Blu-ray option)
An iBIBLE T-shirt in your requested size
The iBIBLE Storybook, Volume 1
The newly updated second edition of The Pilgrim's Progress Storybook
Two gift cards for our interactive, online version of The Pilgrim's Progress Storybook
Become an iBIBLE PRODUCER at

Become an iBIBLE EXECUTIVE PRODUCER at

Become an iBIBLE FOUNDER with a contribution of