Esau and Jacob (Part 2: The Elder Shall Serve the Younger)
Esau and Jacob (Part 2: The Elder Shall Serve the Younger)
Welcome to a behind-the-scenes look at the research and artwork that goes into making each scene of iBIBLE. Today, we look at how Jacob receives his father's blessing of the firstborn.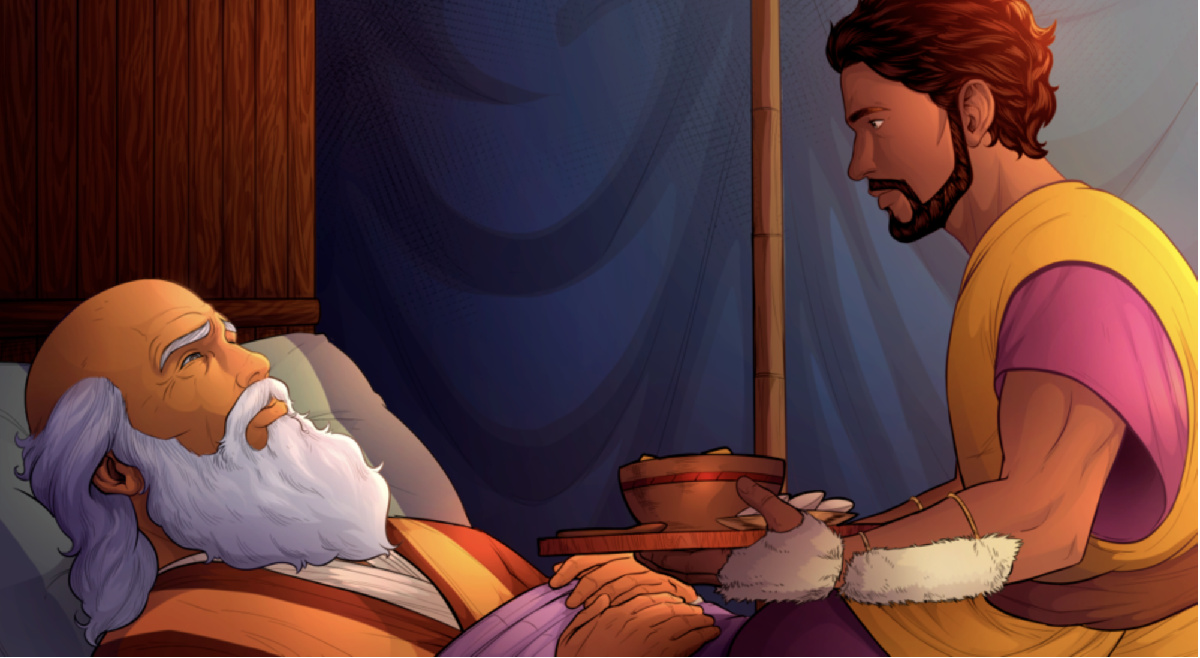 In our last two "Behind the Scenes" segments on the creation of the iBIBLE, we discussed God's word to Rebekah when she was pregnant with Esau and Jacob. "Two are in your womb," God said, "the older shall serve the younger."
In order for Jacob to succeed Isaac as the patriarch of the family, two important factors were in play:
1. The birthright, which was to be bestowed upon his older brother Esau.
2. The blessing of the firstborn, which naturally also belonged to Esau.
Last week, we saw that Esau traded his birthright for some lentil stew. This week, we will look at how Jacob also received his father's blessing of the firstborn, even though it rightly belonged to Esau.
After Esau sold his birthright to Jacob, years went by, and many events happened: Isaac's tribe traveled, settled in various places, and Esau even married two local women. As time went by, Isaac was so old that he became nearly blind. He began to get his affairs in order, and it was time for him to pass on his blessing. Blessings would be given to each of his children, but the most important blessing was always given to the firstborn.
When Isaac was old and his eyes were dim so that he could not see, he called Esau his older son and said to him, "My son;" and he answered, "Here I am." He said, "Behold, I am old; I do not know the day of my death. Now then, take your weapons, your quiver and your bow, and go out to the field and hunt game for me, and prepare for me delicious food, such as I love, and bring it to me so that I may eat, that my soul may bless you before I die." —Gen. 27:1–4 [ESV]
Isaac asks Esau to hunt and prepare food for the blessing
Rebekah overheard this, and she had a different plan in mind:
Rebekah said to her son Jacob, "I heard your father speak to your brother Esau, 'Bring me game and prepare for me delicious food, that I may eat it and bless you before the Lord before I die.' Now therefore, my son, obey my voice as I command you. Go to the flock and bring me two good young goats, so that I may prepare from them delicious food for your father, such as he loves. And you shall bring it to your father to eat, so that he may bless you before he dies." —Gen, 27:6–10
The Bible does not reveal if Jacob liked the idea or not, but it shows that he had concerns about whether or not it would actually work.
But Jacob said to Rebekah his mother, "Behold, my brother Esau is a hairy man, and I am a smooth man. Perhaps my father will feel me, and I shall seem to be mocking him and bring a curse upon myself and not a blessing." His mother said to him, "Let your curse be on me, my son; only obey my voice, and go, bring them to me." —Gen. 27:11–13
Rebekah told her son that she would bear the consequences if he were caught and subsequently cursed by his father, and so Jacob set out do as his mother commanded:
So he went and took them and brought them to his mother, and his mother prepared delicious food, such as his father loved. Then Rebekah took the best garments of Esau her older son, which were with her in the house, and put them on Jacob her younger son. And the skins of the young goats she put on his hands and on the smooth part of his neck. And she put the delicious food and the bread, which she had prepared, into the hand of her son Jacob. —Gen. 27:14–17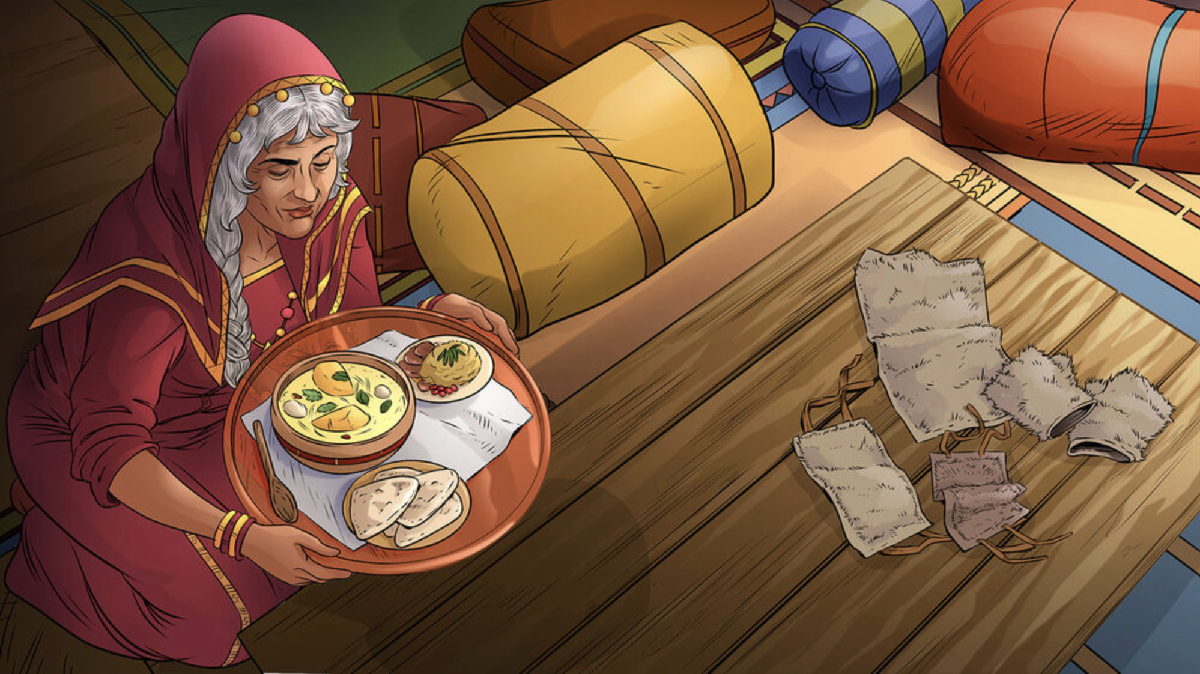 Rebekah gathers the elements used to deceive Isaac
Rebekah's plan was elaborate, and it needed to be done quickly: animals were butchered, meat and bread prepared, Esau's clothes were gathered, and the goatskins were fastened to Jacob. They worked quickly, and Jacob went to visit his father.
So he went in to his father and said, "My father." And he said, "Here I am. Who are you, my son?" Jacob said to his father, "I am Esau your firstborn. I have done as you told me; now sit up and eat of my game, that your soul may bless me. —Gen. 27:18–19
Isaac may have been nearly blind, but clearly, he had reasons to believe that this was not Esau. He tested Jacob several times. He feet his hands to confirm that he was hairy, he asked him questions, and then he smelled him as a final confirmation:
Then his father Isaac said to him, "Come near and kiss me, my son." So he came near and kissed him. And Isaac smelled the smell of his garments and blessed him. —Gen. 27:26–27a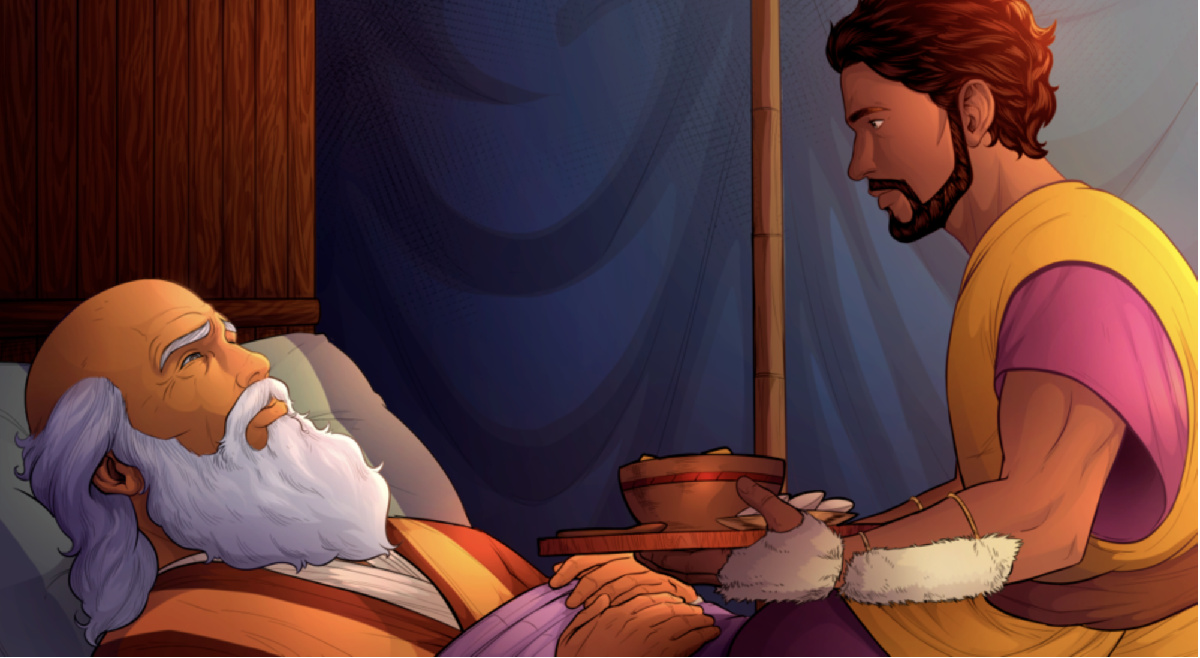 Jacob dressed as Esau bringing food to his father
The deception worked, and barely in time! Esau returned with his game, prepared the food, and brought it into his father to receive the blessing. However, only disappointment awaited him:
As soon as Isaac had finished blessing Jacob, when Jacob had scarcely gone out from the presence of Isaac his father, Esau his brother came in from his hunting. He also prepared delicious food and brought it to his father. And he said to his father, "Let my father arise and eat of his son's game, that you may bless me." His father Isaac said to him, "Who are you?" He answered, "I am your son, your firstborn, Esau." —Gen. 27:30–32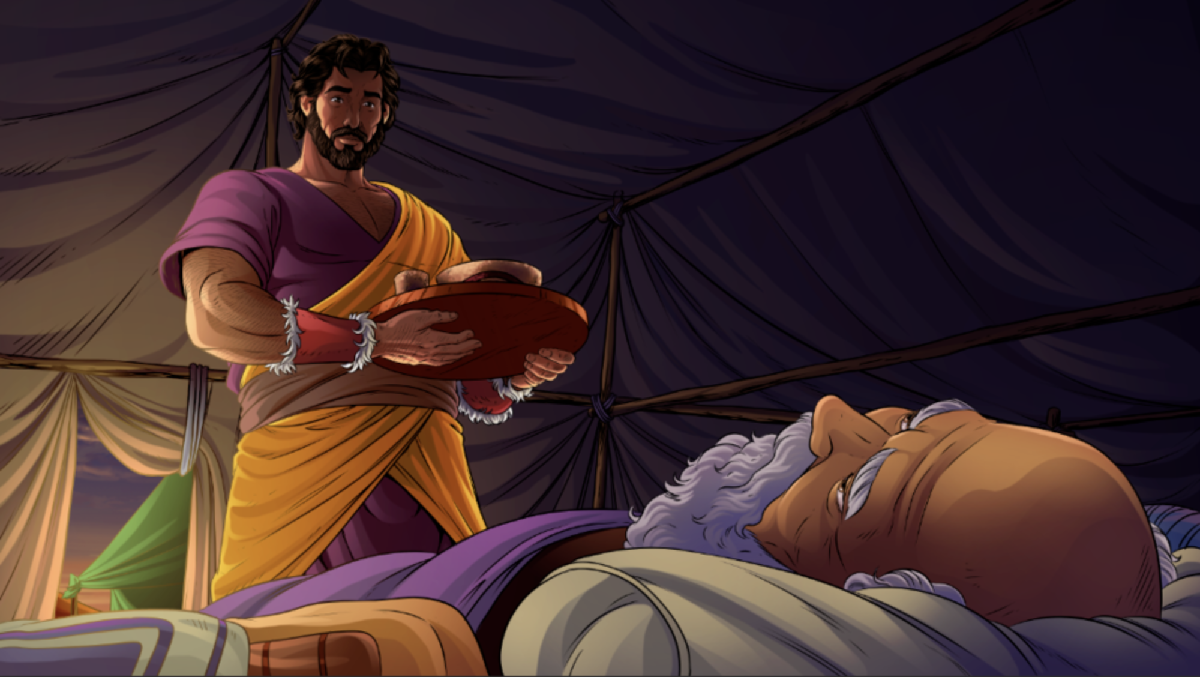 Esau arrives with the food he made for his father
When Esau realized what had happened, he cried out with an "exceedingly great and bitter cry" and begged his father to bless him as well. Isaac stated that Jacob "came deceitfully, and he has taken away your blessing." Esau asked "Is he not rightly named Jacob? For he has cheated me these two times." (Gen.27:34–36, excerpted)
SIDENOTE: It is interesting to note that Esau takes no responsibility for trading his birthright for stew even though it was entirely his choice. And, the Scripture reveals that he "despised his birthright." However, Esau instead blames his brother Jacob, claiming that he cheated him out of his birthright.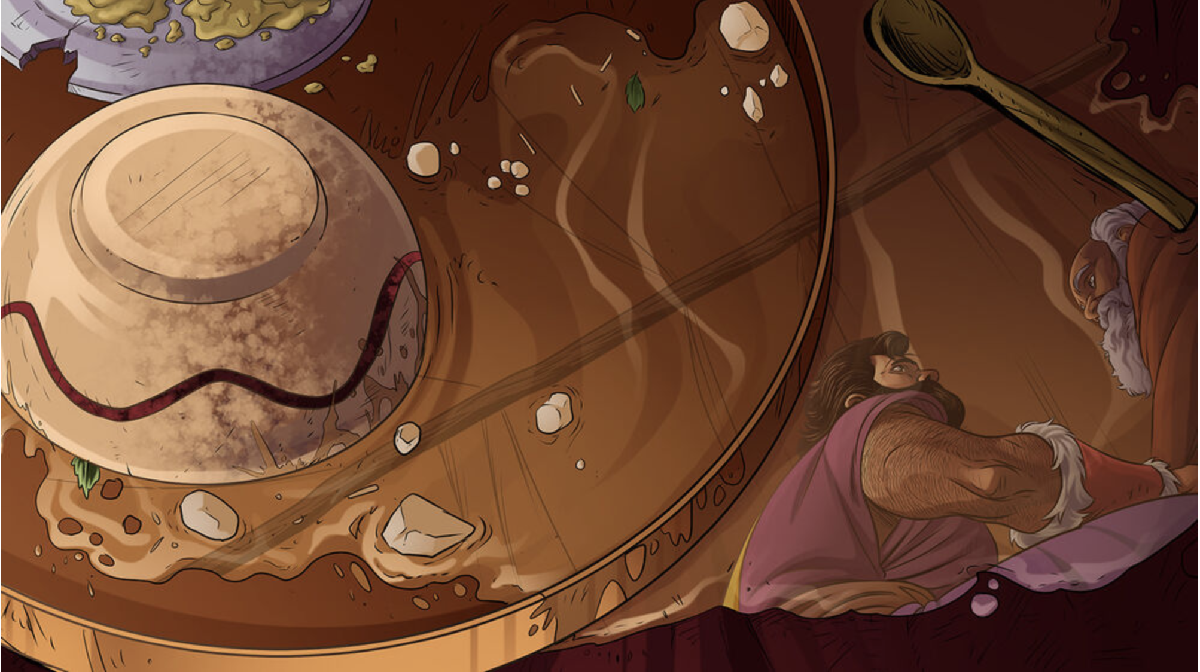 Esau pleads with Isaac to give him another blessing
And thus, the Word of the Lord is fulfilled: "The older shall serve the younger."
Isaac answered and said to Esau, "Behold, I have made him lord over you, and all his brothers I have given to him for servants, and with grain and wine I have sustained him. What then can I do for you, my son?" —Gen. 27:37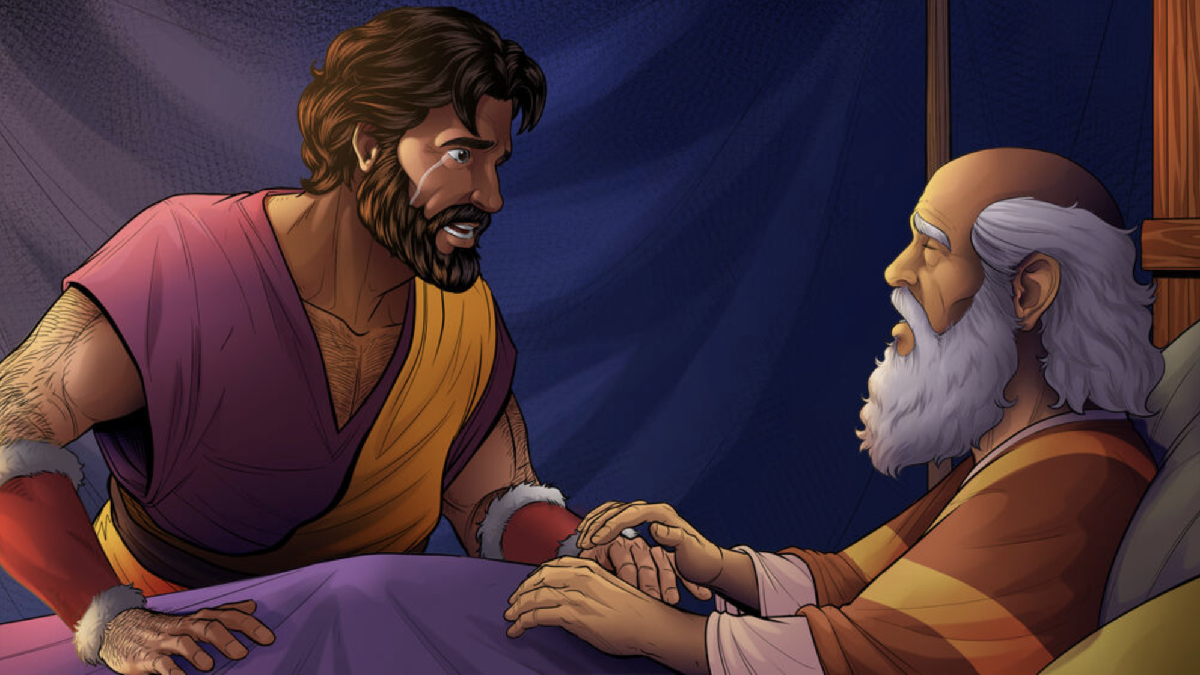 Esau weeps as he realizes the blessing is gone
This deception has severe consequences—one of which is that it caused Esau to hate his brother. Jacob and Esau both make decisions that have long-lasting consequences that will play out in the chapters to come.
The Biblical narrative is full of drama and details of God's dealings with mankind. It can often raise questions such as, "Why did God allow this deception? Why did He not just cause Jacob to be born first?" And, while these questions are valid, we know that God's ways are not our ways. We cannot always understand the mysteries of God. However, we can continually study His Word, learn from all Scripture, and grow in knowledge and fellowship with our Creator!
Following the Bible verse-by-verse, and animating the entire narrative is a great privilege. iBIBLE will help bring each and every event of the Scriptures to life with beautiful color, graphic animation, and dramatic audio. This has never been done before, and we are so grateful for every friend that prays and supports this God-sized vision!
Thank you for your prayers and support in bringing every event in Scripture to life through iBIBLE!