Vote on Your Favorite New iBIBLE Image
This week, we are thrilled to share some brand-new art from the first chapter of the life of Joseph shown in iBIBLE Chapter 20. And you have an opportunity to vote on your favorite! Each image reveals a piece of Joseph's story, beginning with his father preparing him a beautiful coat of many colors, and ending with that very coat being returned to Jacob by Joseph's brothers, torn and bloody.

To vote on your favorite image, click the "VOTE" button. Be sure to look at all the images before voting—there are six to choose from!

IMAGE 1: Jacob Prepares the Coat of Many Colors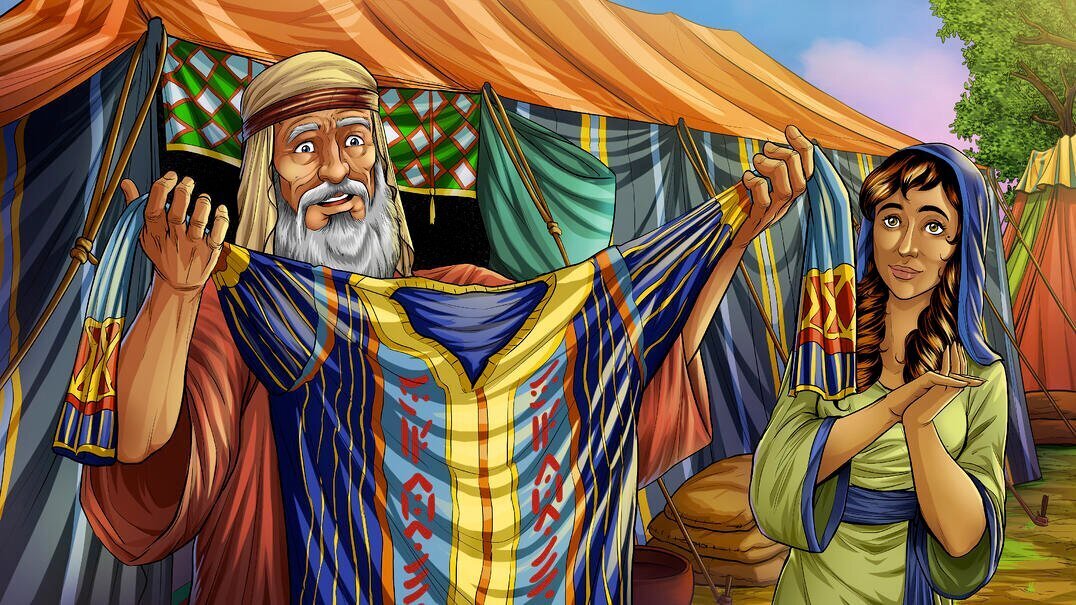 We begin this story with Jacob (Israel) preparing to give his son Joseph a beautiful coat. Joseph's brothers saw that their father loved Joseph the most, so they hated him.
Now Israel loved Joseph more than any other of his sons, because he was the son of his old age. And he made him a robe of many colors. —Genesis 37:3 [ESV]
IMAGE 2: Joseph Tells His Brothers His Dream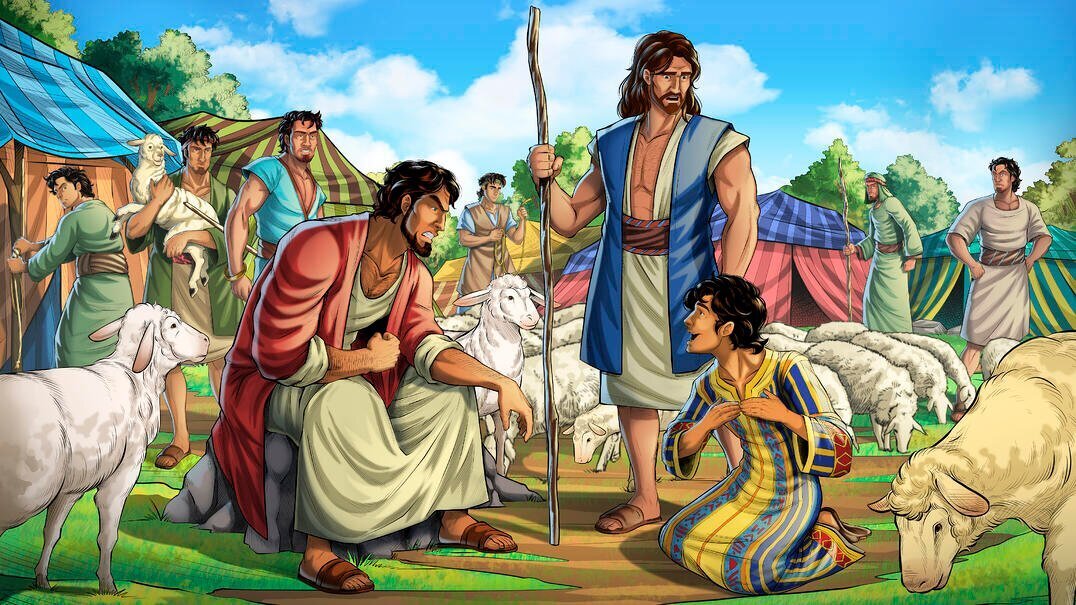 Joseph had a dream in which he and his brothers were in a field binding wheat. The sheath of wheat that he had bound stood upright and all of his brothers' sheaths of wheat bowed down to his.
Now Joseph had a dream, and when he told it to his brothers they hated him even more. —Genesis 37:5
IMAGE 3: Joseph's Brothers Mock Him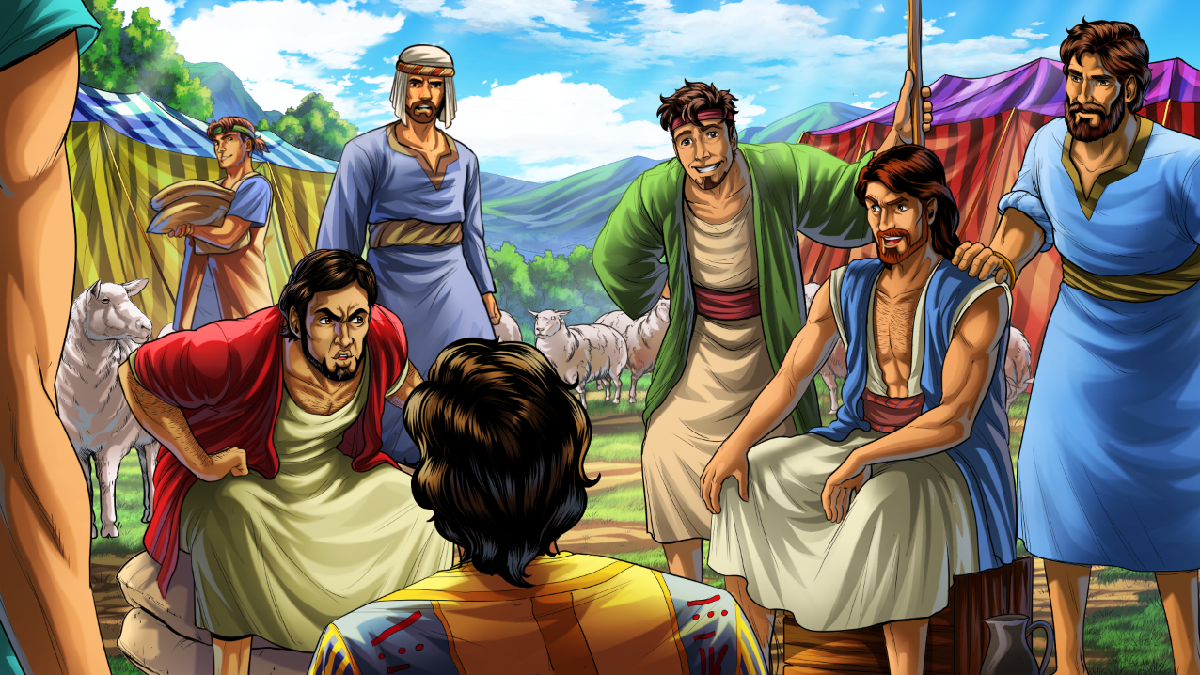 When his brothers heard this dream, they hated him even more and said,
"Are you indeed to reign over us? Or are you indeed to rule over us?" —Genesis 37:8a
IMAGE 4: Joseph Walks Away After Being Corrected by His Father
After this, Joseph had a dream where it seemed clear that his mother and father would also bow down to him. His father rebuked him for this. This image shows Joseph walking away after that rebuke.
But when he told it to his father and to his brothers, his father rebuked him and said to his, "what is this dream that you have dreamed? Shall I and your mother and your brothers indeed come to bow ourselves to the ground before you?" —Genesis 37:10
IMAGE 5: Joseph is Thrown into the Pit
Later, Joseph's brothers saw him coming from afar, and they spoke amongst themselves, agreeing to kill him. But when Reuben heard it, he told them to throw him into a pit instead so that he could come back and rescue him later.
So when Joseph came to his brothers, they stripped him of his robe, the robe of many colors that he wore. And they took him and threw him into a pit. The pit was empty; There was no water in it.
—Genesis 37:23–24
IMAGE 6: Jacob's Sons Give Him Joseph's Torn and Bloody Coat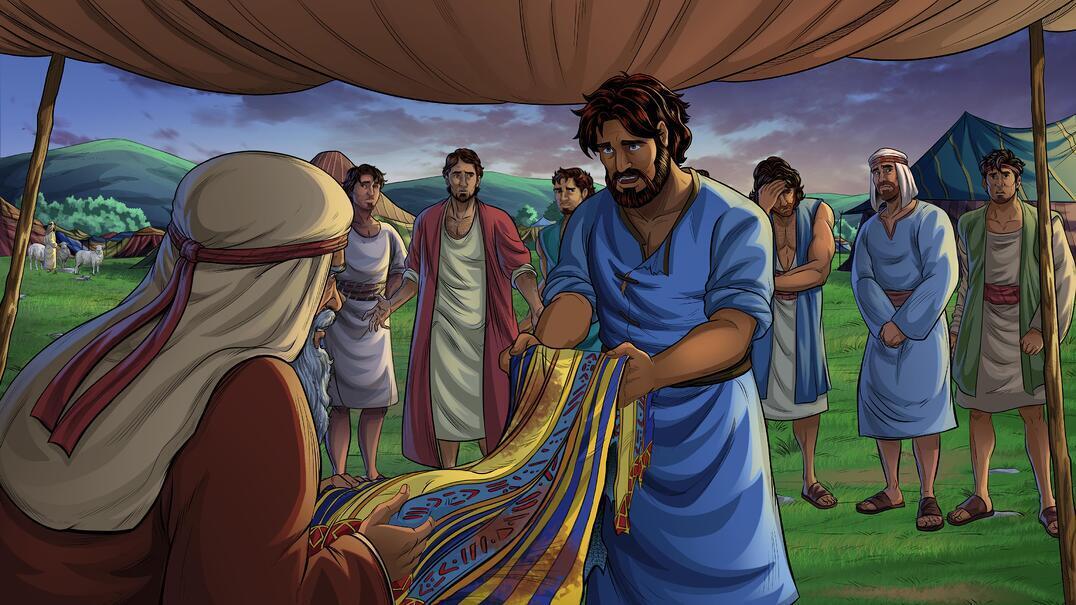 Finally, Joseph's brothers presented Jacob with the coat of many colors, now torn and bloody from his sons' deception.
And they sent the robe of many colors and brought it to their father and said, "this we have found; Please identify whether it is your son's robe or not." And he identified it and said, "it is my son's robe. A fierce animal has devoured him. Joseph is without doubt torn to pieces." —Genesis 37:32–33
As you can see, the iBIBLE artists have been hard at work bringing Joseph's story to life. Please remember our artists and all our other iBIBLE team members in your prayers as we continue this God-sized task! Join our team as an iBIBLE Producer today by clicking the link below and support the creation of the world's first ever complete presentation of the Divine narrative of Scripture—free to the world!