Voice Recording
In last week's Behind the Scenes email, we looked at the progress toward finishing the Jacob story arc and the post-production processes that have begun. Now that recording is underway, we want to pull back the curtain and show you a little more about voice recordings for each episode, using Esau as an example.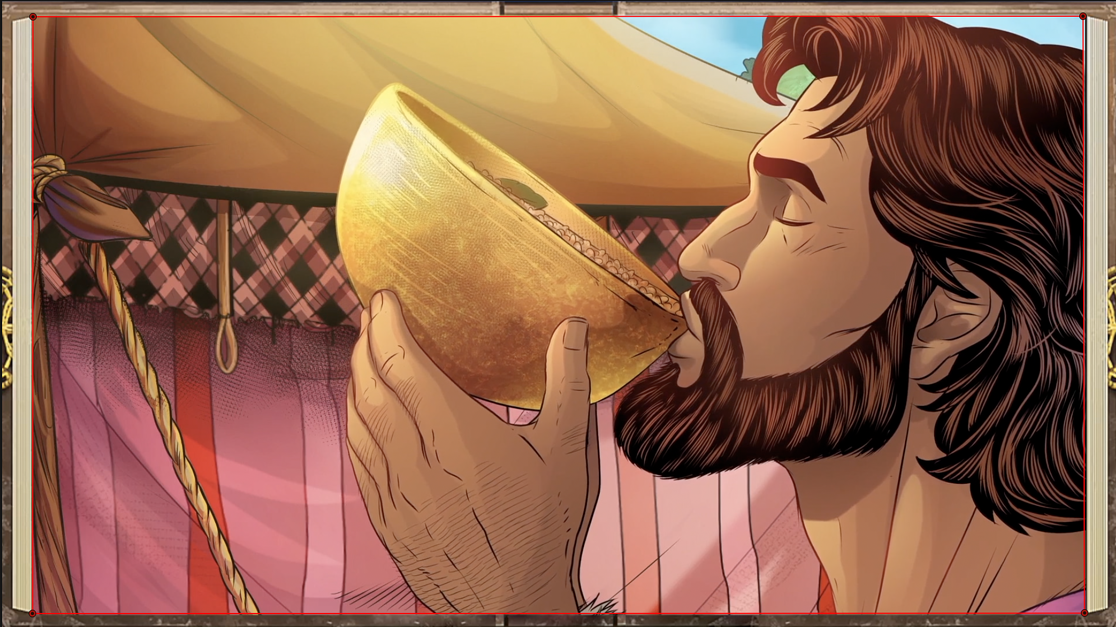 Establishing a Character List & Character Descriptions
First, the scripts for each chapter are reviewed and a list of all characters that have speaking parts is established. Research is done to determine about how old a character is, along with other identifying features. What kinds of emotions will this character display? All of these factors impact the character descriptions used for casting a character. Take a look at our description of Esau:
Esau: Male, 40's then 60's. Rough, rugged, strong voice. Oversized emotions, impulsive.
Non-verbal cues are also important to note when recording voices. There are many instances where a character may make a noise without delivering a full line. You can see some of these instances below.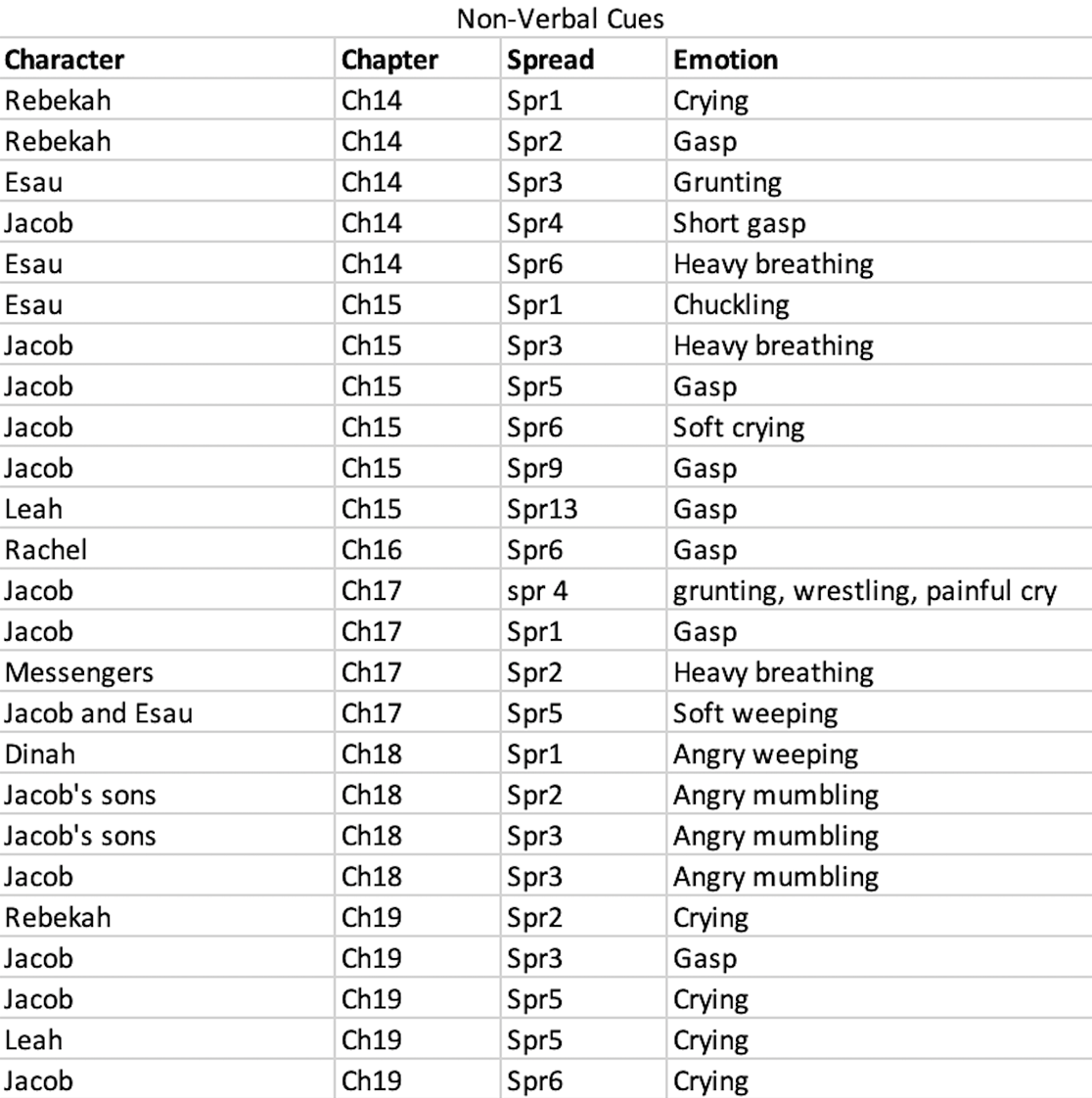 Choosing Voice Talent
Then, a sample line is taken from the script to be used for auditions. Here is an example of what we sent for the character of Esau:
Esau's Line: This is the second time my brother has cheated me! First, he took away my birthright, and now he has taken my blessing. No wonder he is called Jacob!
As you can see, this line is charged with emotion, which will display a voice actor's suitability for this particular role. Once we receive auditions back from voice talent, our options are reviewed, and a selection is made. Then, the recording is scheduled.
Sidenote: "Talent" is the industry standard name for the artist who will record a particular voice.
Click this video link to hear four examples of how one line can be read multiple ways, changing the emotion and intensity of a scene. Esau comes to his father and says, "Father, sit and eat, that you may give me your blessing."
Listen closely and hear the differences in the audio takes:
Take one is paced and clear and communicates respect.
Take two sounds rushed and impatient.
Take three begins at a good pace, but the second half is too rushed.
Take four has clearer emotion: excitement, anticipation, and love.
Recording Sessions
Prior to COVID-19, most recording sessions were done in studios. Now, recording is almost entirely done remotely. For the Jacob arc, we have recorded talents from New York, Miami, Dallas, and even Malaysia!
Rough video is provided to the talent to facilitate lip sync. Scripts with each spoken line are also given to each artist, along with identification of non-verbal sound effects that need to be included in the recording.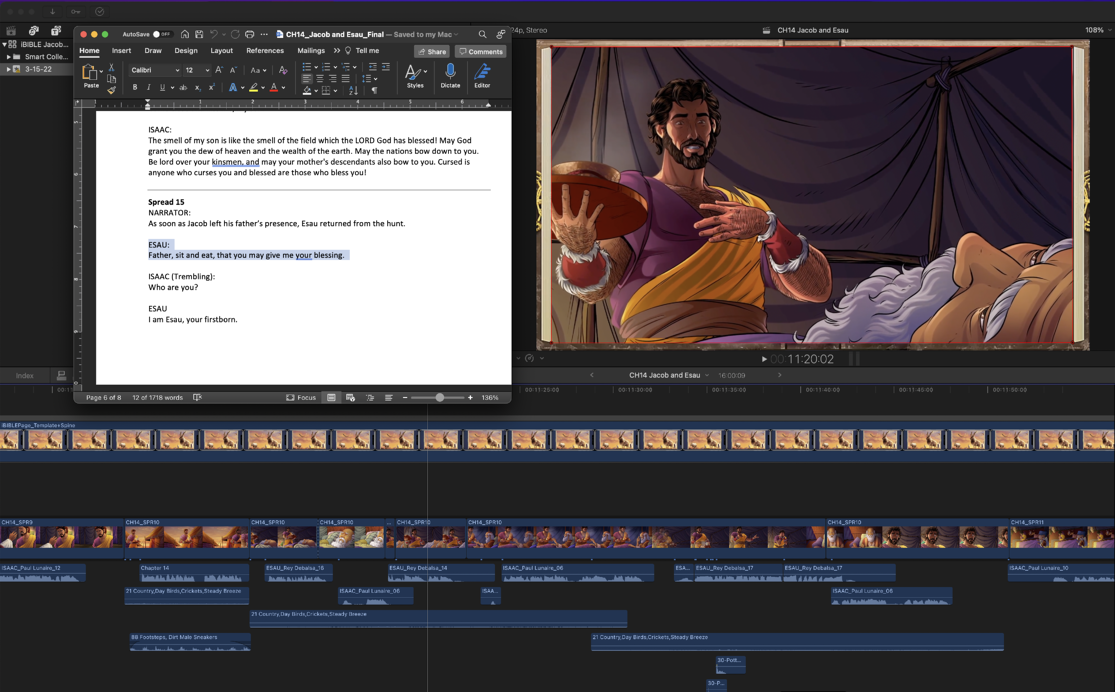 After the recording sessions are complete, the audio engineer compiles the files, the best takes are chosen, and the voice components are added to the iBIBLE scene.
iBIBLE is the first ever complete visual and interactive presentation of God's Divine narrative, and you are helping us bring it to the entire world! Thank you so much for your contributions and your prayers as we write, produce, record, and animate each chapter of iBIBLE. If you are not already a producer, sign up below with a monthly donation and receive exciting rewards!