The Integrity of Joseph
For this week's behind-the-scenes look into the production of iBIBLE, we take a look at some artwork featuring Joseph in the palaces of Egypt from Episode 31 of iBIBLE Genesis. Taken from Genesis 39 in which Joseph is given charge over Pharoah's house, these snapshots capture both Joseph's stature as a leader and his consistent attempts to avoid Potiphar's wife.
This first scene shows Joseph by a table of building plans, overlooking a view of the Egyptian city below, showing how Joseph was held responsible for overseeing high-level projects.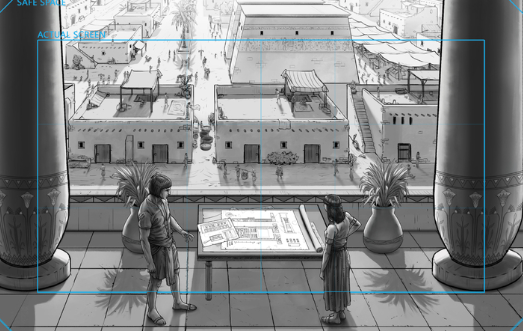 Below, you can see an image of Joseph in a room with Potiphar's wife entering. Joseph is depicted rising up to leave. While a man in Joseph's position could have abused his authority, Joseph did not give into the temptation presented by Potiphar's wife. Instead, his integrity is upheld.
And after a time his master's wife cast her eyes on Joseph and said, "Lie with me." But he refused and said to his master's wife, "Behold, because of me my master has no concern about anything in the house, and he has put everything that he has in my charge. He is not greater in this house than I am, nor has he kept back anything from me except you, because you are his wife. How then can I do this great wickedness and sin against God?" —Genesis 39:7–9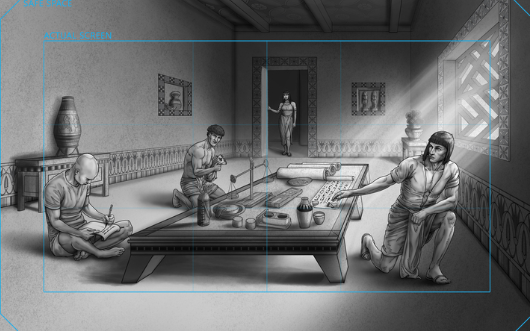 When you donate to RevelationMedia, you become a vital part in bringing the world's first visual presentation of the Grand Narrative to a world that desperately needs Jesus. Prayerfully consider becoming an iBIBLE Producer today.