The Covenant of Circumcision
Last week's iBIBLE Behind the Scenes showed brand new animatic images from Chapter 9 of iBIBLE. Those images focused on the beginning of Chapter 9. This week, let's take a look at the end of Chapter 9 when the Lord changes Abram's name and instructs him about the covenant of circumcision.
We are excited to share new images as animatics are being created and refined by our iBIBLE team in Greece. While these are not final images yet, they depict the basic structure and "feel" of the chapter that will be completed.
When Abram was ninety-nine years old, the Lord appeared to him. As the Lord spoke, Abram fell on his face, and God told him about the future, saying: "No longer shall your name be called Abram, but your name shall be Abraham, for I have made you the father of a multitude of nations" (Genesis 17:5, ESV).
Speaking of the future to Abram, now named Abraham, God said that he would be exceedingly fruitful, and kings would come from him (Genesis 17:6).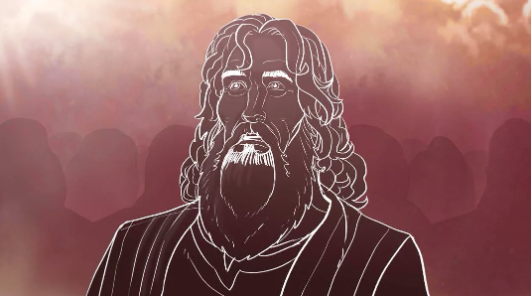 Then God gave Abraham instructions about the covenant of circumcision. All men, whether born into their house or bought with money should be circumcised. Every male 8 days of age and older for all generations would follow this covenant made in their flesh (Genesis 17:9–13).
To illustrate this section of iBIBLE, as the instructions are spoken, the image depicts males of all ages in the camp going about their daily work. The camera moves from left to right as the Lord speaks. The final person walking away from the camp is to illustrate Genesis 17:14, showing a man departing—being cut off—from the tribe.
Any uncircumcised male who is not circumcised in the flesh of his foreskin shall be cut off from his people; he has broken my covenant. —Genesis 17:14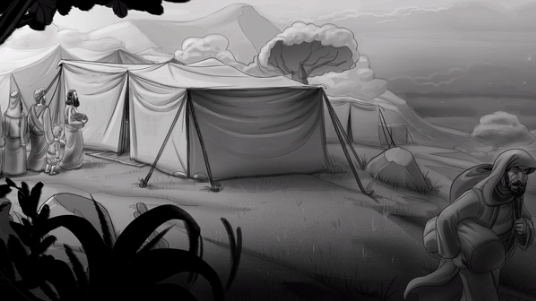 We hope that you enjoyed seeing new artwork from our animatics team in Greece. We are so grateful for your support through prayer and financial gifts as we seek to bring God's Word to the whole world. Each day, iBIBLE, the first ever visual and interactive presentation of the Scriptural narrative, is being written, produced, completed, translated, and shared. Thank you for your partnership as we continue this journey together.