New iBIBLE Art: The Beginning of Joseph's Story
The iBIBLE line artists have finished their work on the Jacob arc and have moved on to Joseph's story. Today, we are excited to give you a glimpse into the creation of iBIBLE Chapter 20 which begins the well-known story of Joseph. We are thrilled to share with you early work on the art for this beloved story from Genesis.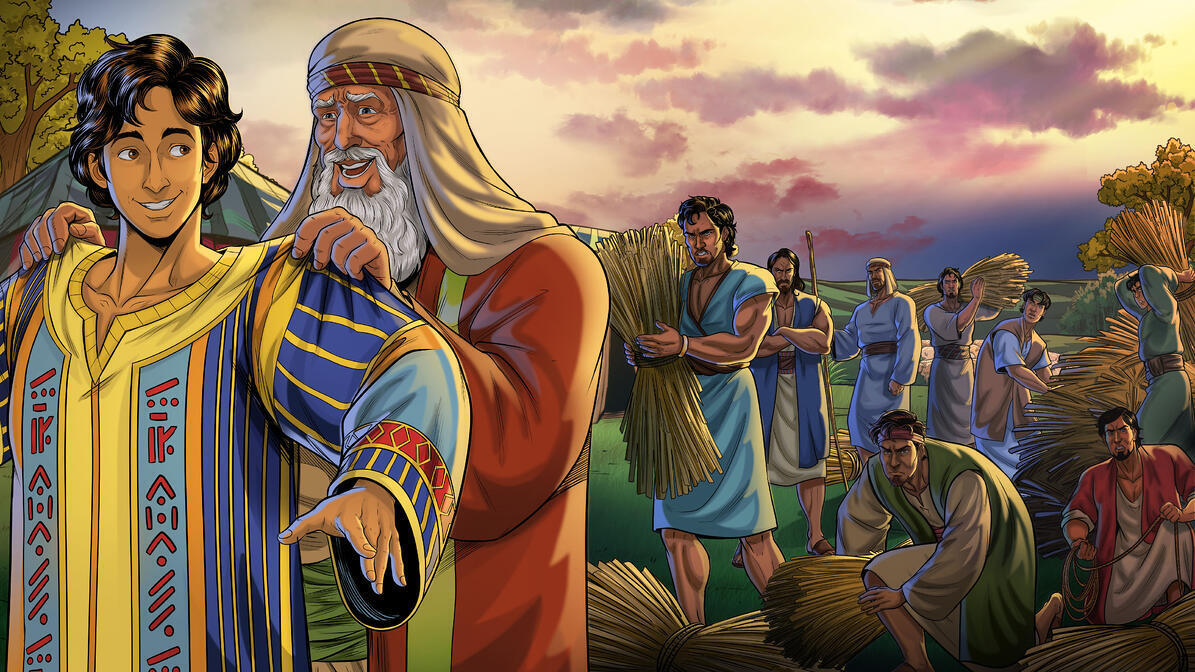 Chapter 20 of iBIBLE, "Joseph's Dreams" begins with Joseph, the first child born of Rachel. His father Jacob loved him very much and favored him over his brothers. In fact, he even gave Joseph a special coat of many colors.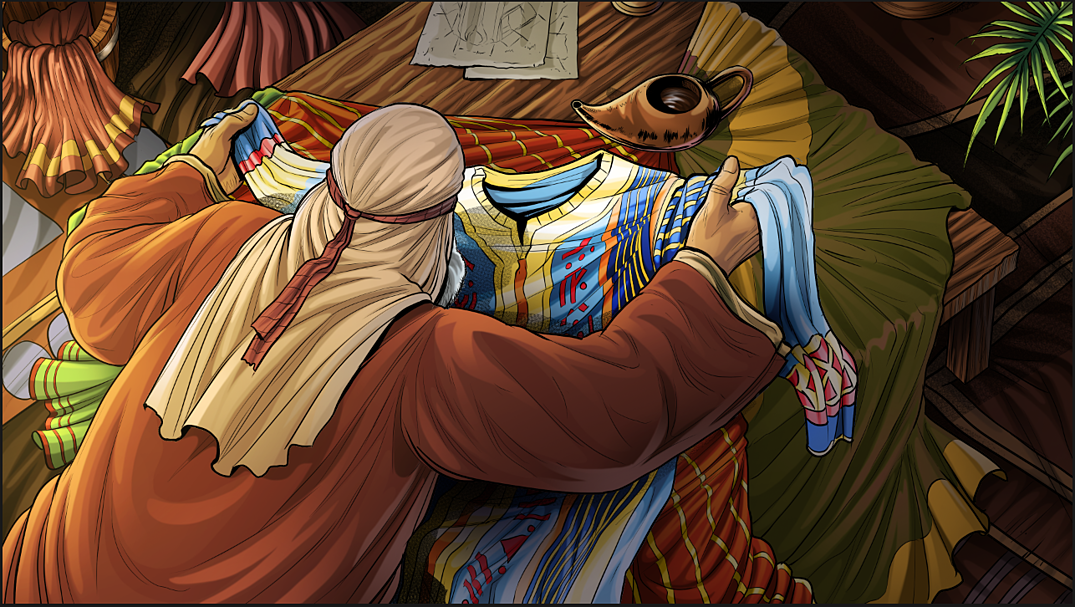 Now Israel loved Joseph more than any other of his sons, because he was the son of his old age. And he made him a robe of many colors. But when his brothers saw that their father loved him more than all his brothers, they hated him and could not speak peacefully to him. —Genesis 37:3–4 [ESV]
This was not the only reason why his brothers hated him. Joseph, while tending the flock with his brothers, had brought a report of them to their father. We do not know exactly what he told them, but we know that it was a bad report:
Joseph, being seventeen years old, was pasturing the flock with his brothers. He was a boy with the sons of Bilhah and Zilpah, his father's wives. And Joseph brought a bad report of them to their father. —Genesis 37:2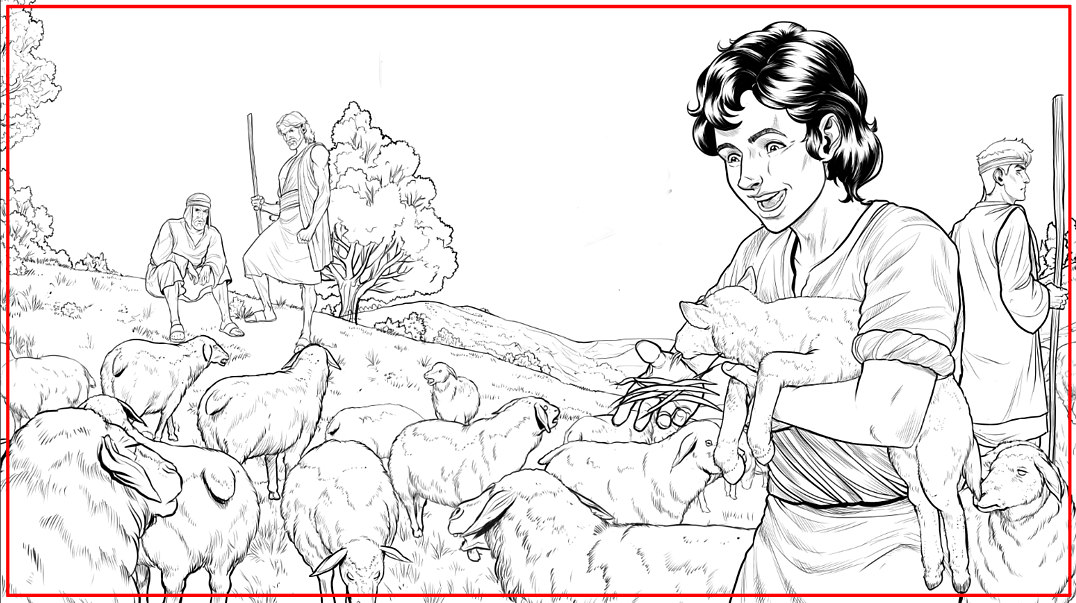 And then, there were Joseph's dreams. One of the most important pieces of this story is that Joseph had two prophetic dreams, and he did not keep them to himself. He appears to have boasted about them to his brothers. When he related these dreams to his brothers, their jealousy and hatred grew.
Now Joseph had a dream, and when he told it to his brothers they hated him even more. —Genesis 37:5
Then he dreamed another dream and told it to his brothers…And his brothers were jealous of him, but his father kept the saying in mind. —Genesis 37:9a, 11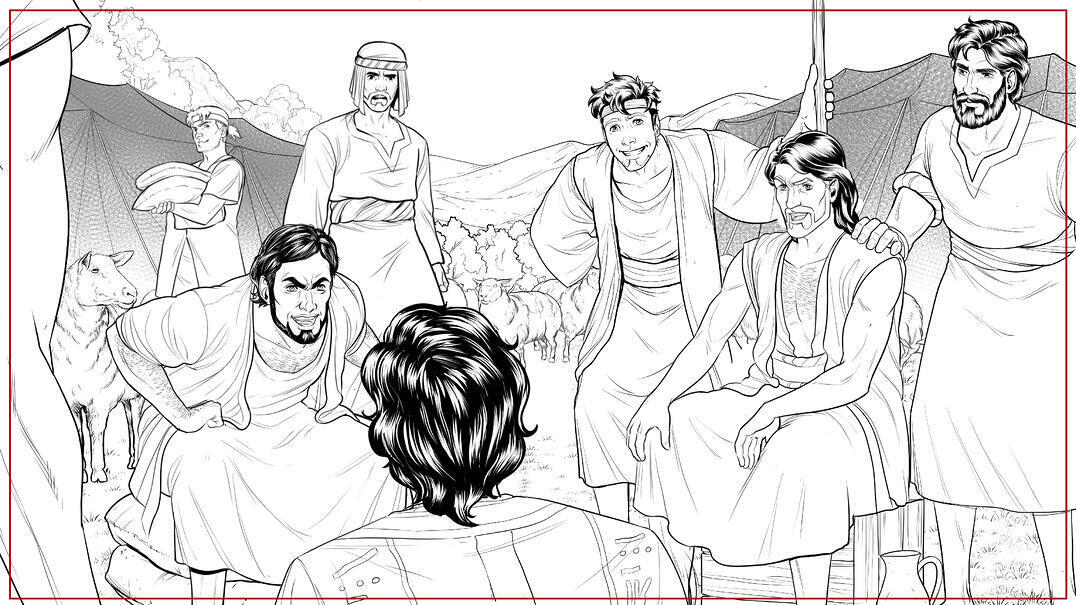 Out of hatred for Joseph, the brothers plotted to kill him. Reuben, the oldest, rebuked them and told them to not shed his blood. So, they stripped Joseph of his coat of many colors and threw him into a pit in the wilderness. Judah proposed that they sell Joseph to a passing group of Ishmaelites, and so they did. When Reuben returned to retrieve Joseph from the pit, he was devastated and tore his clothes in mourning.
The brothers took a goat and slaughtered it, dipping Joseph's robe in the blood. They brought it to their father and said:
"This we have found; please identify whether it is your son's robe or not." And he identified it and said, "It is my son's robe. A fierce animal has devoured him. Joseph is without doubt torn to pieces." —Genesis 37:32b–33
Jacob wept for his son, thinking that he had been killed in the field.
We hope that you enjoyed this behind-the-scenes look at the artwork for iBIBLE Chapter 20. Please continue to pray for the iBIBLE team as we work diligently through all of the production steps to complete the book of Genesis. Join with us on this journey with a financial contribution to support the creation, translation, and distribution of iBIBLE to the US and the global missions community. iBIBLE will always be a free resource to the whole world thanks to generous donors and supporters like you. Thank you for your support!