Elihu
Elihu
Welcome to a behind-the-scenes look at the research and artwork that goes into making each scene of iBIBLE. Let's take a look at Elihu.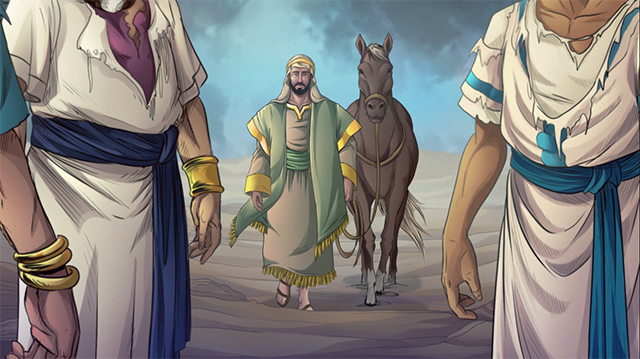 Over the past few weeks, we have presented a behind-the-scenes look at the creation and animation of Job in iBIBLE. This week we will look at Elihu.
We do not know very much about Elihu, but we do know that he is younger than the others, and that he is the son of Barachel the Buzite of the family of Ram. We do not know when he arrived to speak to Job, or when he departed, and interestingly, there is no record of him being rebuked by God as Job's other three friends were.
Naturally, this brings about many questions: was Elihu a fourth friend of Job? Was he a type of Christ? Was he God's messenger? Or, was he someone else altogether? The best part of producing the Biblical narrative is that we don't necessarily have to answer these questions. We reserve these difficult questions and answers for pastors, teachers, and theologians. Our job in producing iBIBLE is to present the narrative: the events that happened as revealed in Scripture.
Finding Job to be relentless in his defense of himself, his three friends ceased to refute him. It is in their silence that Elihu finally speaks up. Elihu, frustrated at Job for his self-righteousness, and frustrated with the three friends for their inability to prove their case against Job, finally makes his case, claiming to speak with wisdom. Ascribing glory to God, and identifying himself as a creature unable to understand the mind of the God of the Universe, Elihu shows all of those in his hearing that sinful man cannot be proven righteous in relation to God.
He chastises Job like the other three, but while the three contended that Job had sinned before his suffering, and that his suffering was a consequence for his sin, Elihu finds Job in error after his suffering because he justified himself rather than God.
Look at the similarities of Elihu's words and those words that God would speak in following chapters.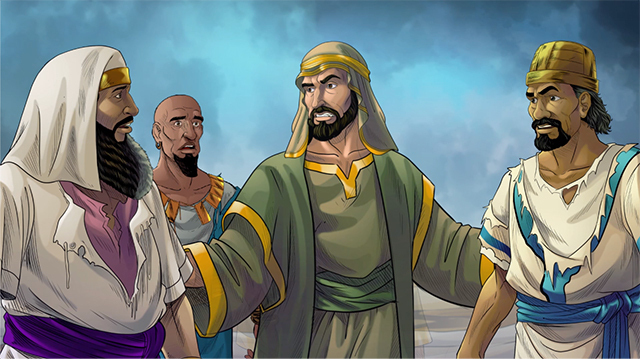 Burning with anger:
ELIHU: "[Elihu] burned with anger also at Job's three friends because they had found no answer, although they had declared Job to be in the wrong." -Job 32:3 [ESV]
GOD: "The Lord said to Eliphaz the Temanite: 'My anger burns against you and against your two friends, for you have not spoken of me what is right as my servant Job has.'" -Job 42:7b
Speaking without knowledge:
ELIHU: 'Job speaks without knowledge; his words are without insight.' -Job 34:35
GOD: "Who is this that darkens counsel by words without knowledge?" -Job 38:2
Putting God in the wrong:
ELIHU: Behold, God is exalted in His power; who is a teacher like him? Who has prescribed for him his way, or can say, 'You have done wrong'? For Job has said, 'I am in the right.' -Job 36:22-23, 34:5a
GOD: Will you even put me in the wrong? Will you condemn me that you may be in the right? -Job 40:8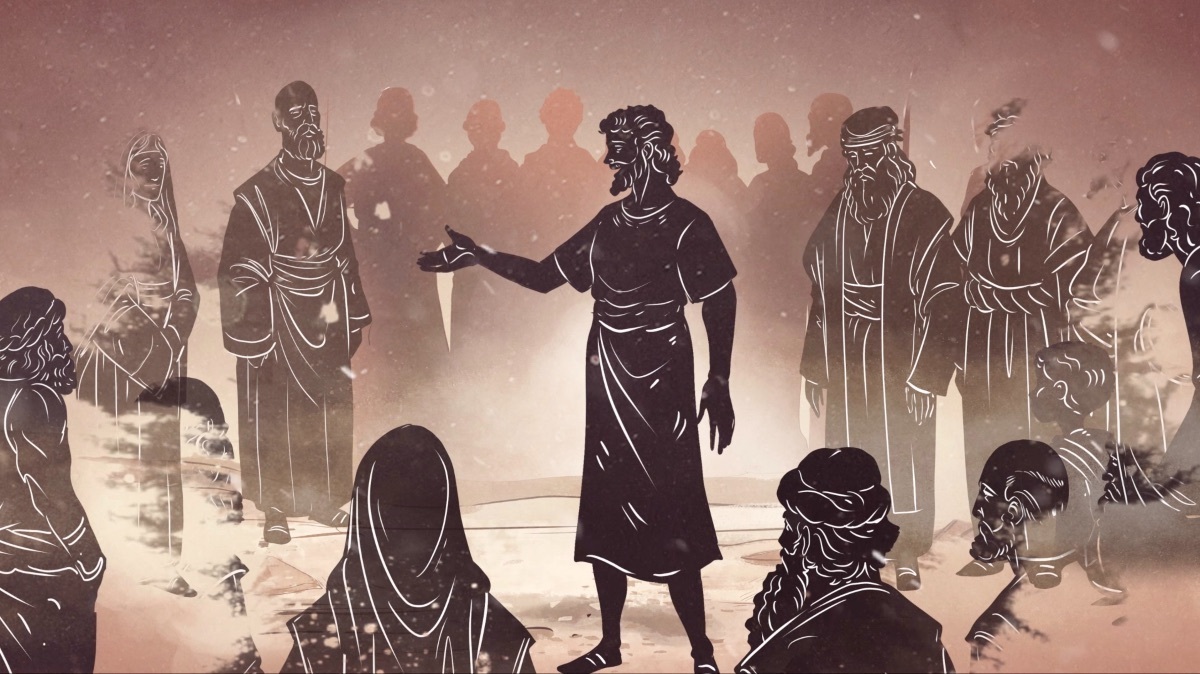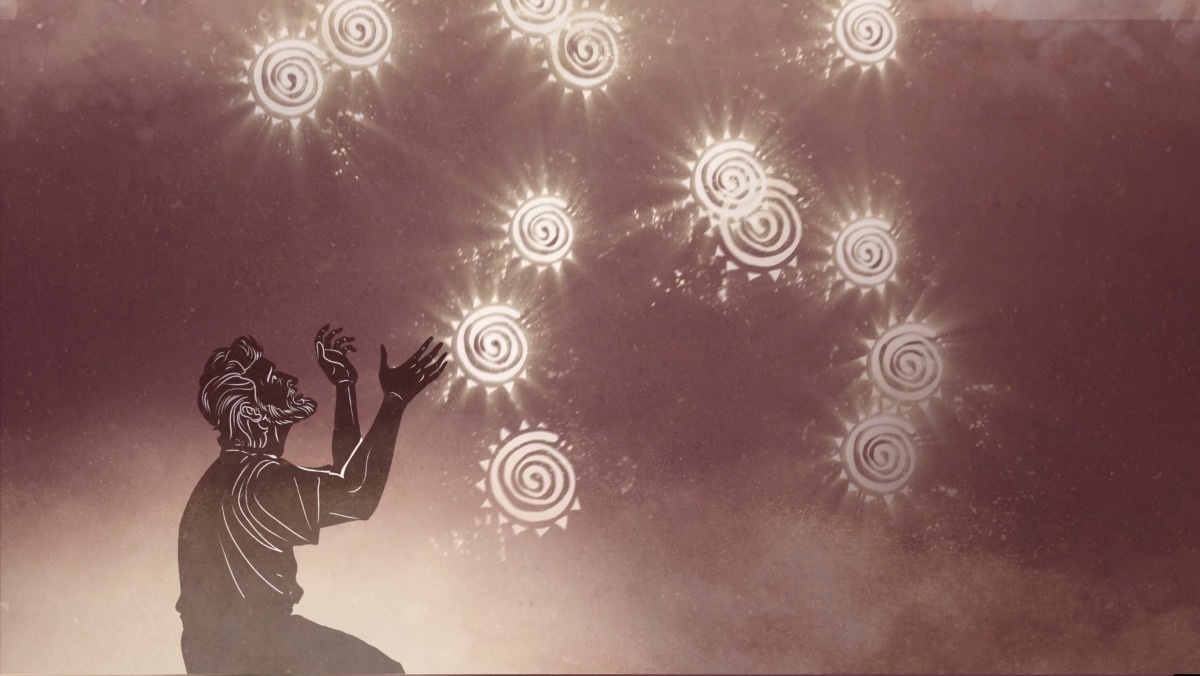 Visions and stories within iBIBLE are set apart with a unique animation style. The images above are from when Elihu is speaking through a narrative to Job and his friends.
The four speeches of Elihu read like poetry. He exalts God and rebukes Job for justifying himself and believing God is in the wrong. Job had begged his three friends for even a shred of evidence against him to support their claims. Elihu effectively uses Job's own words to support his charges. And, while Job answers his three friends each time they bring charges against him, he never answers the words of Elihu:
"Pay attention, O Job, listen to me; be silent, and I will speak. If you have any words, answer me; speak, for I desire to justify you. If not, listen to me; be silent, and I will teach you wisdom." -Job 33:31-33
The Bible is filled with wisdom and salvation to all who heed its words. It tells an amazing story of the majesty of God, and the desperate need of man for a Savior. iBIBLE will bring forth each and every event in a dramatic audio and video presentation, from Genesis to the final Revelation, using Scripture to reveal God's Divine Narrative.
Thank you for your prayers and your support. A special thanks to all those who have signed on as an "iBIBLE Producer." Together we will bring iBIBLE to life!
As we continue to work on iBIBLE, we seek the Holy Spirit's guidance to help us bring all the truths in the Scriptures to their proper portrayal. Thank you for helping RevelationMedia bring iBIBLE to the world! This is a God-sized project, and it is only possible with the support of individuals and families like you.