Tension Between Two Sons
Genesis 21 provides us with the stories of the birth of Isaac and God's protection of Hagar and Ishmael in the wilderness. In-between these stories, an event occurs that causes the separation of the two sons of Abraham—Ishmael mocking Isaac. Take a look behind-the-scenes to see how the "mocking" of Isaac was illustrated in Episode 16 of iBIBLE.
During the feast of weaning that Abraham threw for his son Isaac, Sarah "saw that the son whom Hagar the Egyptian had borne to Abraham was mocking" Isaac (Genesis 21:9, NIV). The Hebrew word used here, tsachaq, means to laugh in merriment or scorn, and implies mocking, playing, or teasing. This action is made clearer in Paul's allegory in Galatians 4:29: "...he who was born according to the flesh persecuted him who was born according to the Spirit."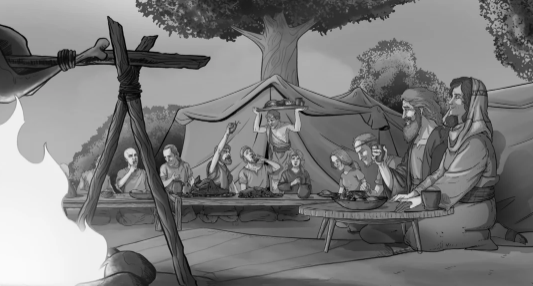 The word tsachaq does not indicate the exact action used to mock Isaac. In the iBIBLE episode, Ishmael is illustrated walking by Isaac, having broken a clay horse that was a common toy for the time period. This action portrays Ishmael's mistreatment of Isaac and stays true to the Biblical text and the historical context. Ishmael's mockery or persecution of Isaac is an important event of this episode, of the two men's lives, and for us today.
While to some, the story may seem minor, it is referenced years later in the New Testament. Paul's allegory in Galatians 4:21–31 shows how the children born of the Spirit will face persecution from the children of the flesh. These words ring true in many nations, where those of this world mistreat and mock the children of God. However, like Isaac, though Christians face mockery and persecution in this world, we are comforted in knowing that we are heirs of the promise of God: "So because you are sons, God has sent the Spirit of his Son into our hearts, crying, "Abba! Father!" So you are no longer a slave, but a son, and if a son, then an heir through God" (Galatians 6–7).
We are so grateful for your support through prayer and financial gifts as we seek to bring God's Word to the whole world. Each day, iBIBLE, the first ever visual and interactive presentation of the Biblical narrative, is being written, produced, completed, translated, and shared for the purpose of strengthening believers and bringing people into a relationship with the Father. Thank you for your partnership as we continue this journey together.