A Tale of Two Kings
A Tale of Two Kings
Welcome to a behind-the-scenes look at the research and artwork that goes into making each scene of iBIBLE. Today, we look at a tale of two kings.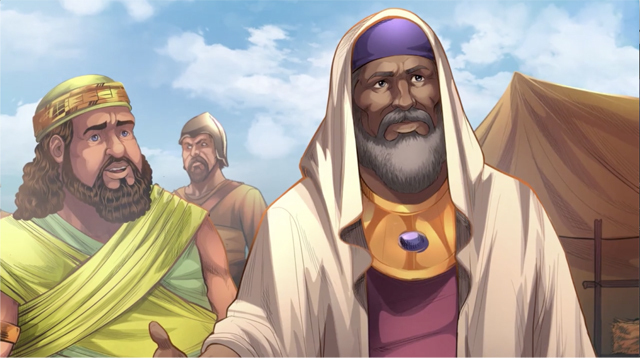 In Genesis 14, we read the account of a battle involving the King of Sodom. Many neighboring kings assembled their armies and attacked the city of Sodom, taking with them all of Sodom's goods and food, and kidnapping Lot, the nephew of Abram. When Abram heard that Lot had been kidnapped, he gathered 318 trained men and, under the cover of night, attacked those who pilfered Sodom. Abram recovered all the stolen possessions, his nephew Lot, and others who had been kidnapped.
You can read more about this event in a previous iBIBLE Behind the Scenes entitled "Warrior Chieftain."
As Abram returned from the attack, he was met by two kings: the king of Sodom, and the king of Salem. The king of Salem, Melchizedek, was called a priest of God Most High. Not much is known about Melchizedek, though he is mentioned a few times in Scripture. Most notably, he uniquely serves as both a king AND a priest.
In iBIBLE Chapter 9, the story unfolds about these two kings and the offers that they bring to Abram.
The Offer of the King of Sodom: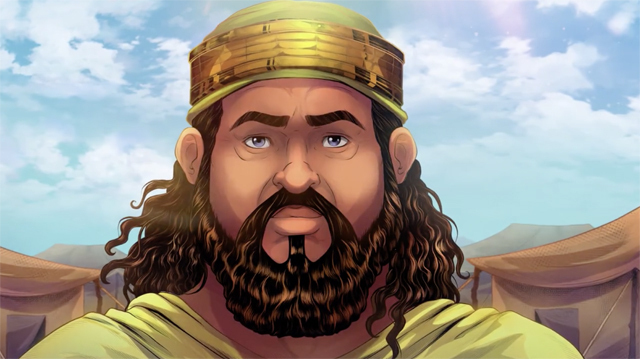 The King of Sodom
The king of Sodom is the ruler of the city of depravity which would soon receive judgment from God. He greets Abram; he is thankful because Abram had restored all that he had lost, but now he feels indebted to Abram. He offers Abram all the spoils that he brought back except for the people. However, Abram refuses. He does not want to be associated with the King of Sodom, and does not want the King of Sodom to be credited with making him wealthy:
And the king of Sodom said to Abram, "Give me the persons, but take the goods for yourself." But Abram said to the king of Sodom, "I have lifted my hand to the Lord, God Most High, Possessor of heaven and earth, that I would not take a thread or a sandal strap or anything that is yours, lest you should say, 'I have made Abram rich.' I will take nothing but what the young men have eaten, and the share of the men who went with me. —Gen, 14:21–24 [ESV]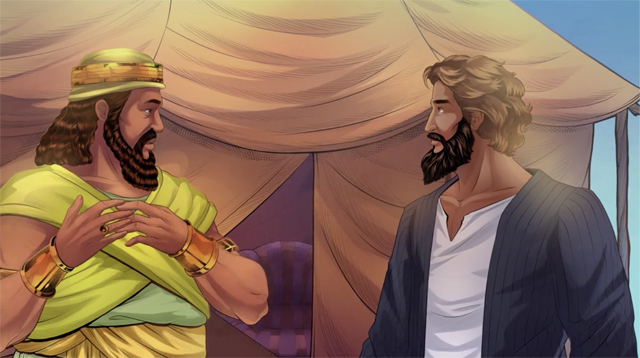 The King of Sodom offers Abram all the spoils that he brought back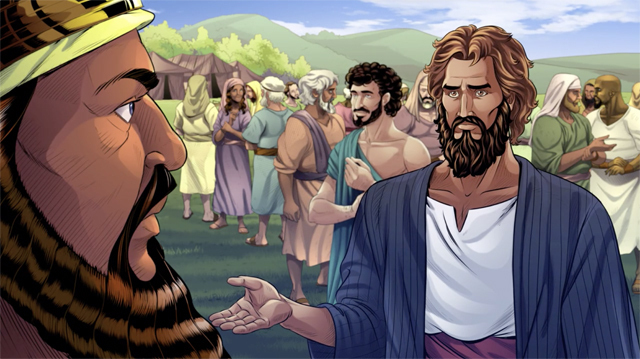 Abram turns down King Sodom's offer
The Offer of the King of Salem: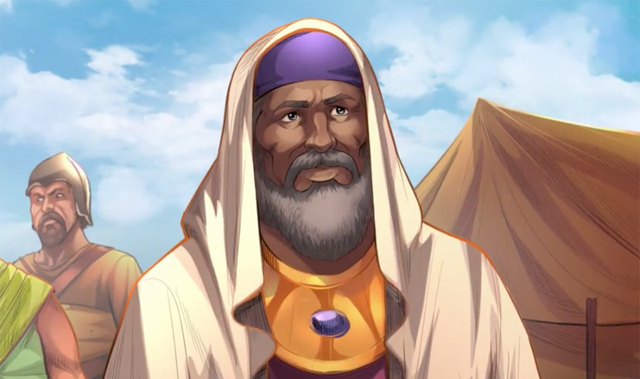 The King of Salem, Melchizadek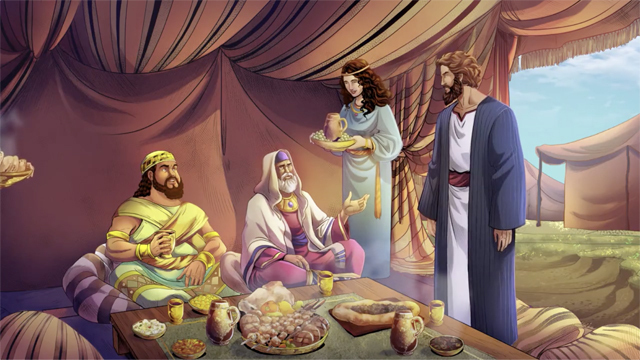 Abram shares a meal with Melchizadek
Before the offer from the King of Sodom, the king of Salem had offered something even more precious to Abram: a blessing. He spoke this blessing over Abram in the name of God Most High, and shared with him a meal of bread and wine. What does Abram do? He honors Melchizedek with a tithe (a tenth portion) of everything. This is the first mention of a tithe in Scripture.
And Melchizedek king of Salem brought out bread and wine. (He was priest of God Most High.) And he blessed him and said, "Blessed be Abram by God Most High, Possessor of heaven and earth; and blessed be God Most High, who has delivered your enemies into your hand!" And Abram gave him a tenth of everything. —Gen. 14:18–20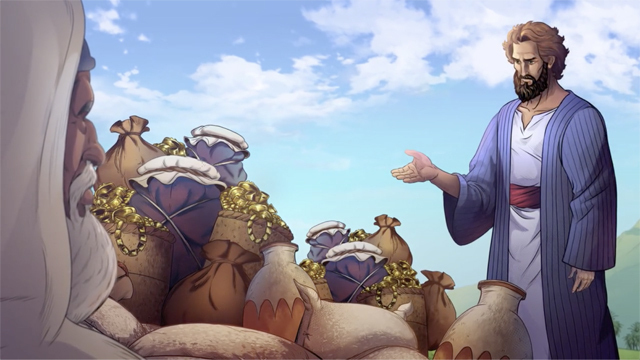 Abram presents Melchizadek with a tithe
In every event revealed in the Biblical narrative, we see the work of God. We see how He deals with those who seek Him, and those who seek the things of this world. Abram chose God's blessing over the riches of this world, showing that God's blessing was infinitely more valuable than any earthly riches the King of Sodom could have possibly offered.
Today, we serve another who holds the title of King and Priest: the Lord Jesus Christ. He is the one who maintains this title forever after the order of Melchizedek (see Hebrews 7). The event involving Melchizedek that is revealed in Genesis 14 is referenced thousands of years later by the writer of Hebrews in the New Testament. This demonstrates that each event in Scripture is uniquely woven together, and reveals one single story of God's plan to redeem and restore mankind through His Son Jesus!
As we continue to work on iBIBLE, we seek the Holy Spirit's guidance to help us remain true to the Scriptures. Each and every decision for visuals and content for iBIBLE are carefully researched, and prayerfully executed. We look forward to bringing the entire Biblical narrative to the world in this unique and innovative format. Thank you for your prayers and support as we continue to produce iBIBLE and soon make it available for free to the world.