The Life of Isaac (Part One)
The Life of Isaac (Part One)
Welcome to a behind-the-scenes look at the research and artwork that goes into making each scene of iBIBLE. Today, we look at the life of Isaac.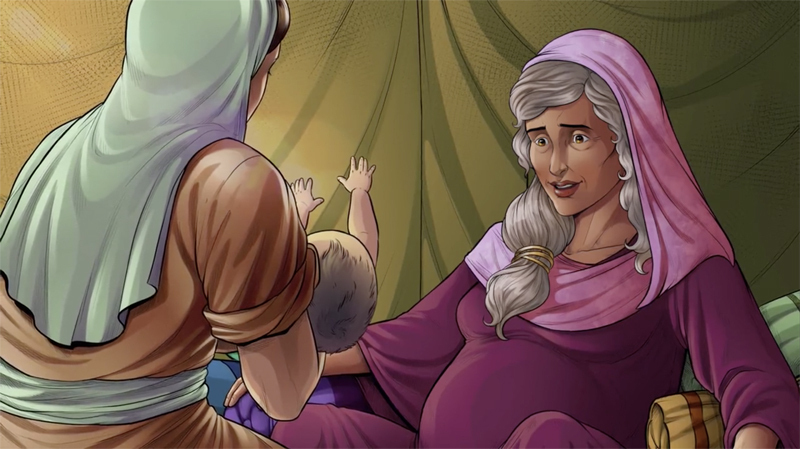 25 years after God gave Abraham the promise, it was fulfilled! Abraham was 100 years old when his wife Sarah, age 90, gave birth to a son:
The Lord visited Sarah as he had said, and the Lord did to Sarah as he had promised. And Sarah conceived and bore Abraham a son in his old age at the time of which God had spoken to him. Abraham called the name of his son who was born to him, whom Sarah bore him, Isaac. And Abraham circumcised his son Isaac when he was eight days old, as God had commanded him. Abraham was a hundred years old when his son Isaac was born to him. —Gen. 21:1–5 [ESV]
As God had instructed them, they named their child Isaac, meaning "he laughs." His name expressed the joy that Abraham and Sarah felt after receiving the promise. As Sarah states:
"God has made laughter for me; everyone who hears will laugh over me." And she said, "Who would have said to Abraham that Sarah would nurse children? Yet I have borne him a son in his old age." —Gen. 21:6–7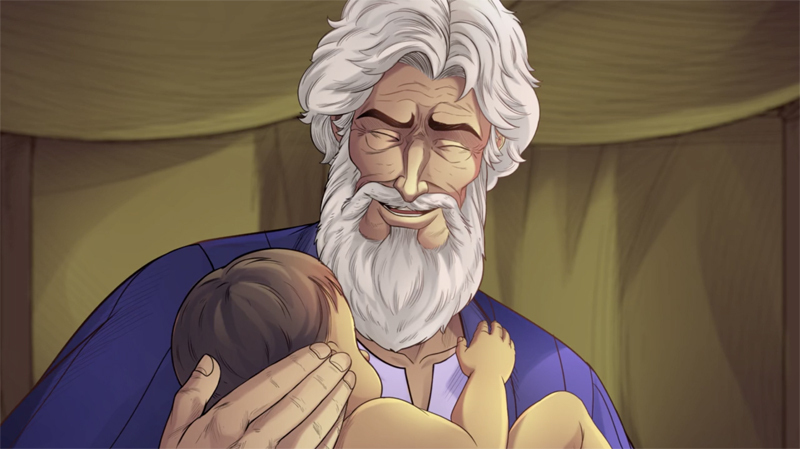 Abraham rejoices at the birth of Isaac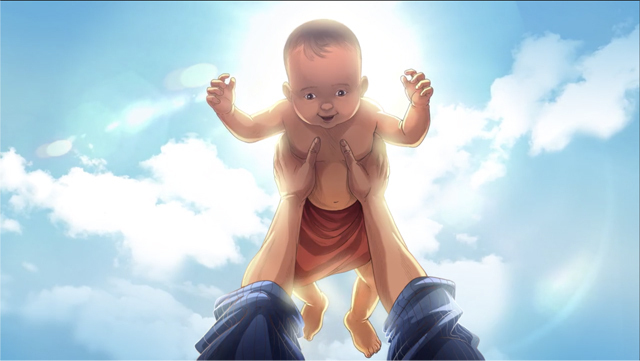 Isaac, the promised son, is born
Conflict arose shortly thereafter. When Isaac was weaned (traditionally around 2 or 3 years of age), Abraham celebrated with a feast. During this feast, something Ishmael did caused Sarah to be concerned about the interactions between her son and Hagar's son:
And the child grew and was weaned. And Abraham made a great feast on the day that Isaac was weaned. But Sarah saw the son of Hagar the Egyptian, whom she had borne to Abraham, laughing. —Gen. 21:8–9
Ishmael laughing
It is not clear exactly what Sarah witnessed. Jewish tradition suggests this was far more serious than simply laughing at his toddler brother. Sarah then tells Abraham to cast out Hagar and Ishmael. The Apostle Paul gives us a clue when he explains in Galatians: "But as at that time he [Ishmael] who was born according to the flesh persecuted him [Isaac] who was born according to the Spirit, so it is now also." (Gal. 4:28-31) Paul goes on to explain that believers are sons of the free woman, Sarah, and not of the slave woman, Hagar.
So she said to Abraham, "Cast out this slave woman with her son, for the son of this slave woman shall not be heir with my son Isaac." —Gen. 21:10
Though the Scriptures reveal that Abraham was not happy about sending away his older son, God confirms to him that sending Ishmael away is in accordance with His plan. And, as we saw in last week's post, He also takes care of Hagar and her son because the child of the slave woman is also Abraham's offspring.
In just a few passages of Scripture, God's plan of redemption is revealed again. Two sons are born: Isaac, the son of promise, and Ishmael, the son of the slave woman. As Christians, we are the children of promise. We have been freed from the bondage of sin and death. We are free in Christ.
However, those who do not believe remain like Ishmael: as children under bondage. And even now, they persecute the Body of Christ. We see this story unfold in Genesis 21, and Paul further explains the significance of this event in his letter to the Galatians thousands of years later.
The entire Biblical narrative reveals God's perfect plan!
Next week, we will look at one of the most dramatic and difficult events in the life of Isaac: when God tells Abraham, "Take your son, your only son Isaac, whom you love…and offer him as a burnt offering." (Gen. 22:2)
iBIBLE will be the first Biblical presentation of its kind to present the entire story, from Genesis to the final Revelation, in a visual and interactive format to help us better understand God's Divine Story. Thank you for your support.