The Life of Isaac (Part Two: The Sacrifice)
The Life of Isaac (Part Two: The Sacrifice)
Welcome to a behind-the-scenes look at the research and artwork that goes into making each scene of iBIBLE. Today, we look at the story in which God asks Abraham to sacrifice Isaac.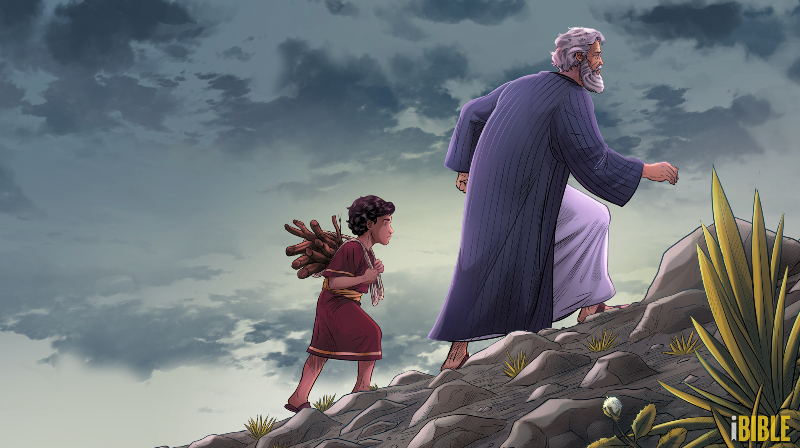 In last week's iBIBLE "Behind the Scenes," we looked at the birth of Isaac. Today, we will delve into one of the most dramatic scenes in the life of Abraham and Isaac: when God tests Abraham by asking him to sacrifice his son.
After these things God tested Abraham and said to him, "Abraham!" And he said, "Here I am." He said, "Take your son, your only son Isaac, whom you love, and go to the land of Moriah, and offer him there as a burnt offering on one of the mountains of which I shall tell you. —Gen. 22:1–2 [ESV]
We do not know exactly how old Isaac was at this time, but since Abraham referred to him as "the boy," we can conclude he was 12 years old or younger. We also know that Abraham had Isaac carry the wood to the altar, so he was old enough to handle that task. For this scene in iBIBLE, we have presented Isaac as being approximately 10 years old.
While there are many traditional beliefs, and incredible explanations about why God would ask Abraham to sacrifice his son, the Scriptures clearly reveal that God was testing him (Gen. 22:1).
One can only imagine what Abraham would have felt when God asked this of him. God points out that Isaac is Abraham's "only son," and the son "whom he loved." Abraham obviously had another son, Ishmael, who was not the "son of promise" that God had given to him.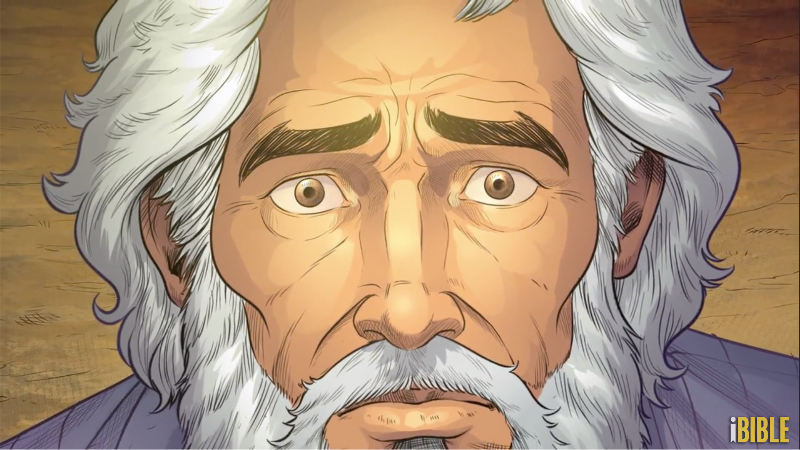 Abraham is told by God to sacrifice Isaac
Abraham had waited 25 years for God's promise of a son to be fulfilled. Sarah, Abraham's wife, miraculously gave birth to Isaac at 99 years old! God had promised that Abraham's descendants would be like the stars of the sky and sands of the sea. How could this test from God possibly make sense to Abraham? Wouldn't it contradict all that God had previously promised if he were to obey and sacrifice his son?
However, Abraham knew God's voice well, so he proceeded without delay to carry out the task that God had asked him to complete. He had total trust in his Creator.
So Abraham rose early in the morning, saddled his donkey, and took two of his young men with him, and his son Isaac. And he cut the wood for the burnt offering and arose and went to the place of which God had told him. —Gen. 22:3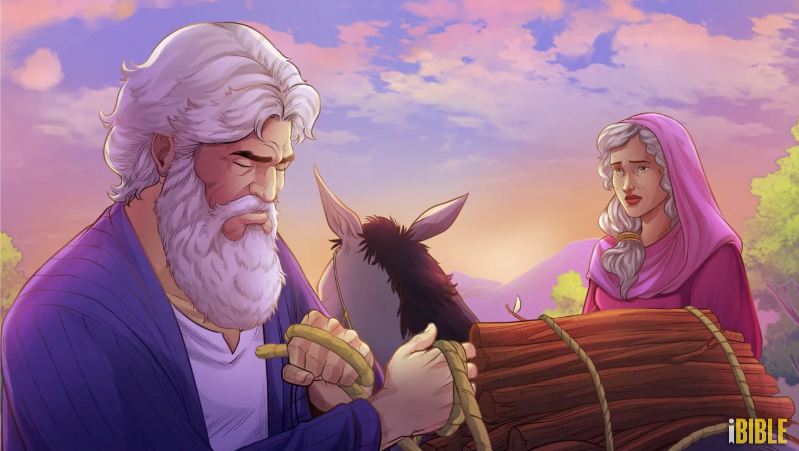 Abraham rises early in the morning and saddles his donkey
Abraham traveled three days to the land of Moriah. This passage of Scripture does not reveal what Abraham was thinking, or how he felt. There is no mention of him pleading with God, or even questioning His instructions. On the third day, when he saw the place in the distance, he instructed those he traveled with to remain behind while he and Isaac proceeded.
On the third day Abraham lifted up his eyes and saw the place from afar. Then Abraham said to his young men, "Stay here with the donkey; I and the boy will go over there and worship and come again to you." And Abraham took the wood of the burnt offering and laid it on Isaac his son. And he took in his hand the fire and the knife. So, they went both of them together. —Gen. 22:4–6
Abraham travels to Moriah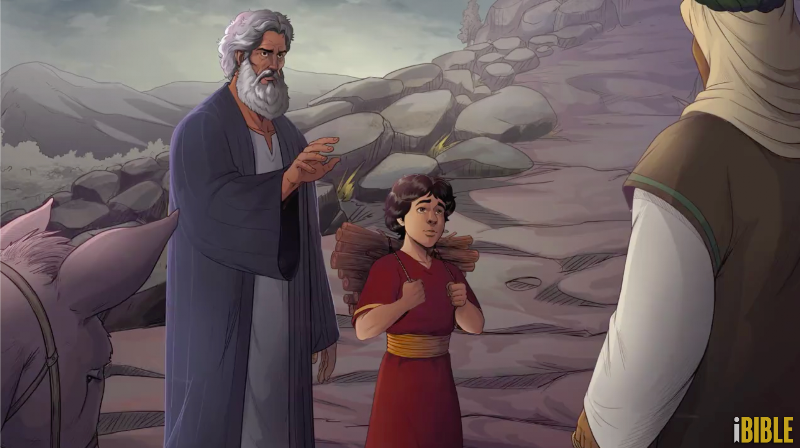 Abraham tells the men to wait while he goes on with Isaac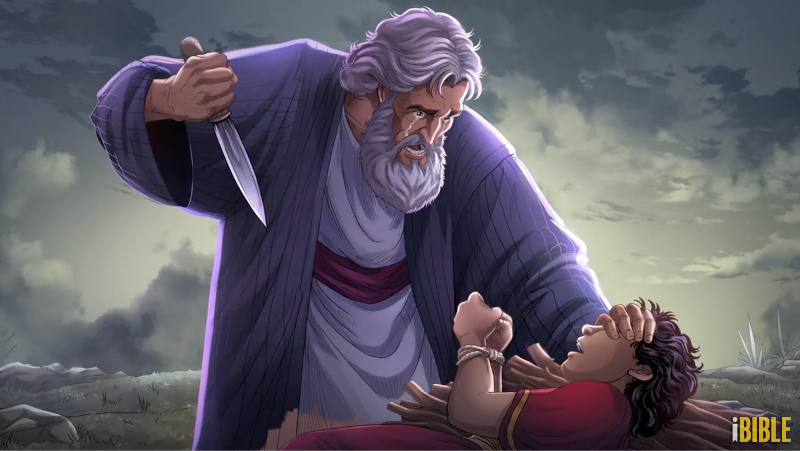 Abraham raises his knife to sacrifice Isaac
We will look at the conclusion of this event in next week's iBIBLE "Behind the Scenes." In it, we will see the many parallels between this event and God sending His only Son Jesus to die on the cross. It is so exciting to be able to reveal the unified story of God's redemptive plan. When looking at individual events, the situations may challenge our thinking, and even cause us to question God's motives. However, when we look at the entire Biblical narrative, we see how each event is a part of a much bigger "grand narrative" that helps us know God and enter into fellowship with Him.
Some well-respected Christian leaders have recently encouraged people to simply focus on Jesus, and only emphasize the New Testament. We think that this is very unfortunate, and actually prevents us from having a deeper understanding of God and His Divine plan. While the Scriptures clearly point to Jesus as the source of our relationship with God the Father, we cannot dismiss a single passage of His Holy Scriptures. For, as Paul writes in his letter to Timothy,
"All Scripture is breathed out by God and profitable for teaching, for reproof, for correction, and for training in righteousness, that the man of God may be complete, equipped for every good work." —2 Tim. 3:16–17
Thank you for your prayers and support in bringing every event in Scripture to life through iBIBLE!