Beautiful iBIBLE Backgrounds
Last year, we showed how creating a digital library of pre-drawn elements can help speed up the production of iBIBLE. In this behind-the-scenes email, we invite you to take a sneak peek at this growing asset library and see one of the first scenes where this resource is being used!
Elements are being consistently added to this library to serve as stock images for new iBIBLE scenes. Using pre-drawn assets such as trees, pots, bushes, and tents can lessen the time spent on each episode—to the point where the time spent could potentially be cut in half! It also means that the backgrounds will be high-quality, consistent, and have beautiful color and texture. This is one of the ways that we are intentional about being good stewards of the time and resources that have been given to iBIBLE.

Above are two versions of the same tree found in the asset library. The first, unfinished tree can be shaded to match the shadows and highlights of any scene. The second, black and white tree is a completed version, and can be placed in black and white scenes, such as the one below.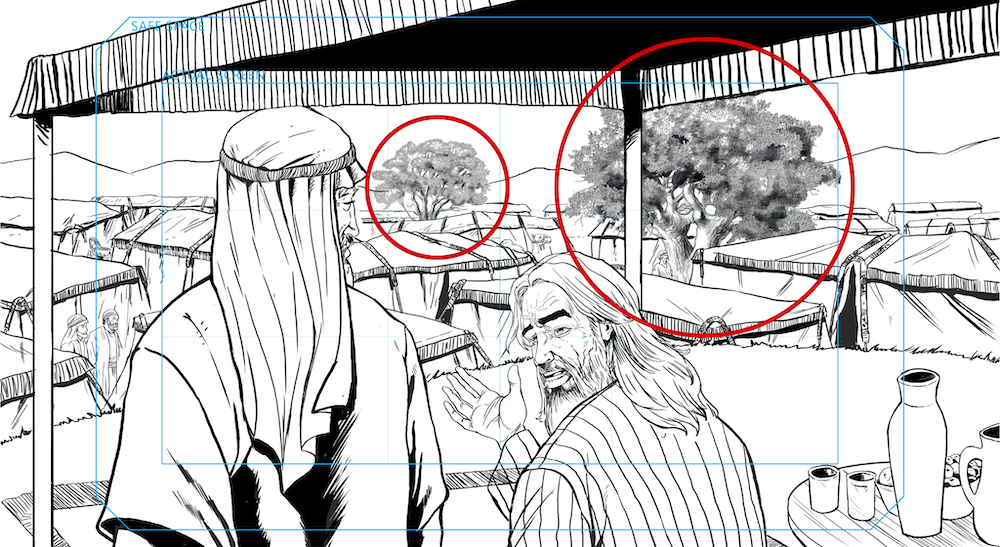 Tamarisk trees are an abundant part of the flora of the Mesopotamian region. They also appear several times in the Old Testament, such as at Beersheba in Genesis 21:33 or in Gibeah in 1 Samuel 22:6. Not only is the tamarisk tree important to have available in the library for these important stories, but also because it provides an attractive and accurate-to-the-region background tree.
As we continue to produce iBIBLE episodes, please consider joining us and supporting iBIBLE as an iBIBLE Producer. With your support, we can continue to bring high-quality, Biblical content to the globe for FREE.