Warrior Chieftain
Warrior Chieftain
Welcome to a behind-the-scenes look at the research that goes into making each scene of iBIBLE. Let's take a look at the study behind Abram's life.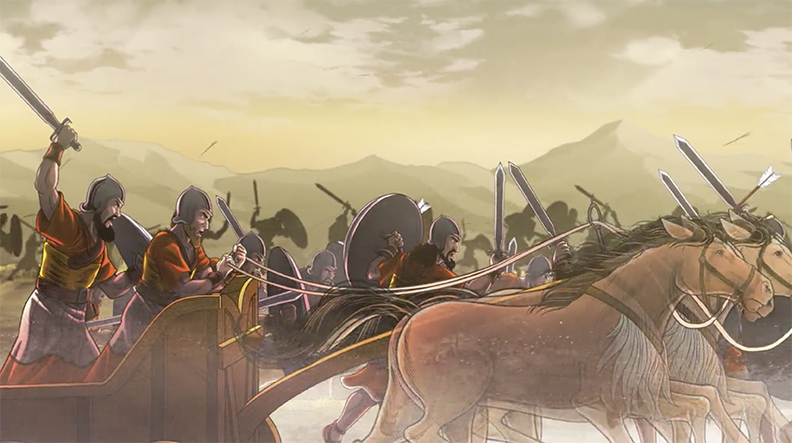 When Abram heard that his kinsman had been taken captive, he led forth his trained men… (Genesis 14:14)

When we study Bible characters throughout scripture, we often focus on the relationship these characters had with God:
* Job's unmoving faith in God (though he slay me…)
* David's deep love that he had for his maker (As the hart panteth after the waterbrook, so panteth my soul after thee, o God.)
* Jacob's perseverance (I will not let you go until you bless me!)
* Abram's trust in God (Abram believed God, and it was counted unto him for righteousness.)
But we often don't consider all that the Bible tells of these individuals. When we take a deeper look at Abram's life, we find more than a righteous shepherd. We find that Abram was a noble warrior.
In Genesis chapter 14 we read of the war of nine Kings, in which Sodom is defeated. After their defeat, the city was looted, and the inhabitants were taken away to be slaves. One of those inhabitants was Abram's nephew Lot.
When word came to Abram that his nephew had been taken from the city of Sodom, he gathered his army of 318 trained men and his allies, rode under the cover of night, pursued the invaders, routed them out and rescued Lot.
Then [Abram] brought back all the possessions, and also brought back his kinsman Lot with his possessions, and the women and the people. (Gen 14:16)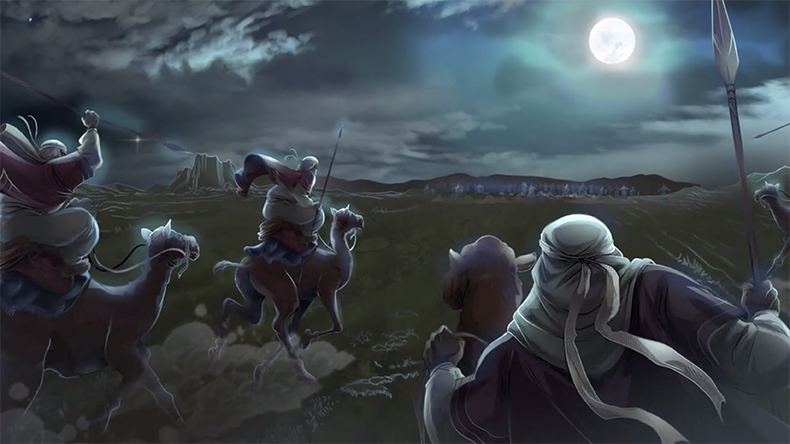 Abram lives in wild, dangerous times. Raiding parties were not uncommon, and city-states were often at war with each other. Consider the war of the nine kings that preceded Abram's rescue of his nephew Lot. Even after Israel settled in the promised land years later, raids by other tribes were frequent occurrences (Gideon and the Midianites for example).

As we look at Abram's full story, we begin to see more than a shepherd and a leader, we see a great warrior, a wise chieftain. In fact, the Bible doesn't reveal that a single one of Abram's men was lost in battle.
1. Abram had his own army: This was not a big army, but they were trained, and they were loyal. Trained by him, raised in his house. He led forth his trained men, born in his house, 318 of them… (Genesis 14:14)
2. He was skilled in diplomacy: Even though he moved around, he made allies of the people around him. He had men to defend him, and he had mutual defense agreements in place with the neighboring tribes. Abram was living by the "Oakes of Mamre." Mamre, his brothers, and Abram were allies. Then one who had escaped came and told Abram the Hebrew, who was living by the oaks of Mamre the Amorite, brother of Eshcol and of Aner. These were allies of Abram. (Genesis 14:13)
3. He was a military tactician: When going up against a superior force, he didn't just show up and attack them by day. He split up his forces and attacked by night. And he divided his forces against them by night, he and his servants, and defeated them and pursued them to Hobah, north of Damascus. (Genesis 14:15)
Abram was a wealthy man. He believed God and followed where God led. He was also a clever man, leading a tribe in a land that was not his own.
Understanding the entire narrative brings forth amazing riches and depth of all the characters in the Bible.
Scenes from iBIBLE Chapters 8-11