The Land of the Promise
Throughout Genesis, God repeatedly promised the land of Canaan to Abraham and his descendants to be their everlasting possession. Step behind the scenes and follow us on a journey through the iBIBLE Genesis script to show how each of these promises are included to display the one, continued promise of God to Abraham.
In iBIBLE Genesis Episode 8: The Call of Abram, God led Abram and his family from Haran to the land of Canaan, where the LORD appeared to Abram and told him for the first time, "To your descendants I will give this land" (Genesis 12:7). God, illustrated as light, stood beside Abram and showed him the fertile, beautiful land that his family would inherit.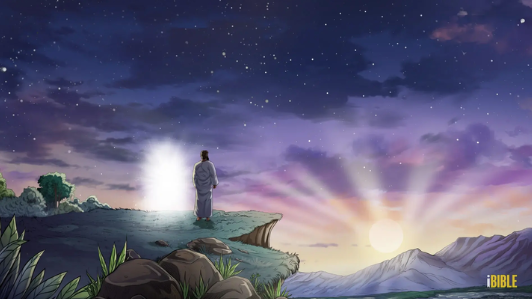 In iBIBLE Genesis Episode 9: Abram and the Kings' War, the LORD appeared again to Abram:
"Lift up your eyes and look all around from where you are—to the north, the south, the east, and the west. All the land you see I will give to you and to your descendants forever. And I will make your descendants as numerous as the sands of the earth. Arise, walk through the length and the breadth of the land, for I will give it to you." —iBIBLE Genesis Episode 9 (Genesis 13:14–17)
In the scene below, God showed Abram the land before him, and gave him a glimpse of how his descendants would grow and multiply in the land.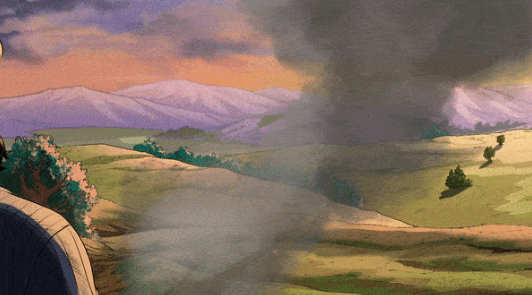 Finally, we look at iBIBLE Genesis Episode 12, where the LORD promised Abraham and his descendants in a vision that He would "be their God" (Genesis 17:8).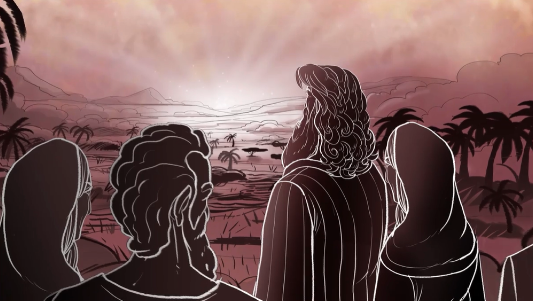 Many narrative stories of Genesis compile all of these promises into one event, but iBIBLE presents each of them in the Abrahamic episodes. Each event in the Bible is important for people to know and learn. The repeated promises of the land to Abram remind him and us of the importance, magnitude, and faithfulness of the covenant, as stated in iBIBLE Genesis Episode 10: "I have given this land to your descendants, from the river of Egypt to the great river, the river of Euphrates" (Genesis 15:18).
Prayerfully consider becoming a part of bringing the whole story of the Bible to the world for FREE in a format that all people can engage with. Become an iBIBLE Producer and help us publish all 42 episodes of iBIBLE Genesis on Easter 2024 for the world to watch and learn the true beginnings of the Bible.